Control all your offers from one single dashboard and give your users another reason to trust your business.
All these offers are handled inside your Ordering Dashboard > Marketing > Promotions Enterprise.
What is this?
This is a panel where you will control all the promotions of all the stores you have in your marketplace; these promotions are specific according to your marketing strategy, up to the point where you can set up certain delivery zones to get promotions rather than others.
Or enable the promotion on your website, but not your customer app, and more settings to allow your marketplace to increase their sales.
This is how it looks for your customers.
This is the screen your customers will see at checkout where they put the coupon to take the discount.

Ad this is how it looks when you as a marketplace owner set an automatic discount according to certain criteria, in this example, we have set a 50% in an order with a minimum purchase of $100.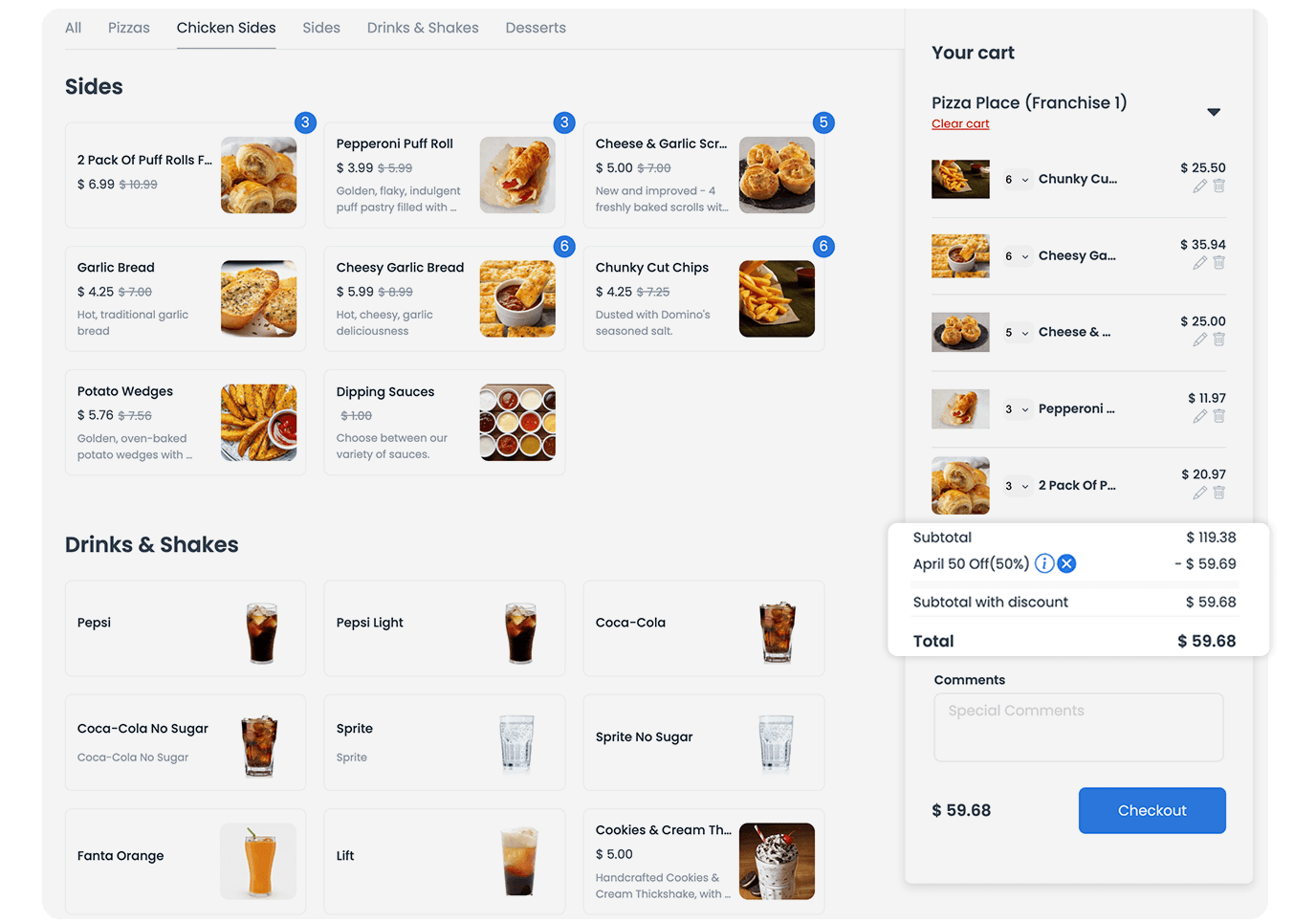 If you click on the information icon you'll see more details of the offer.
This is how you set these offers up
Inside your Ordering Dashboard > Marketing > Promotions Enterprise
Once you are here in, to set a new promotion, you'll start with General.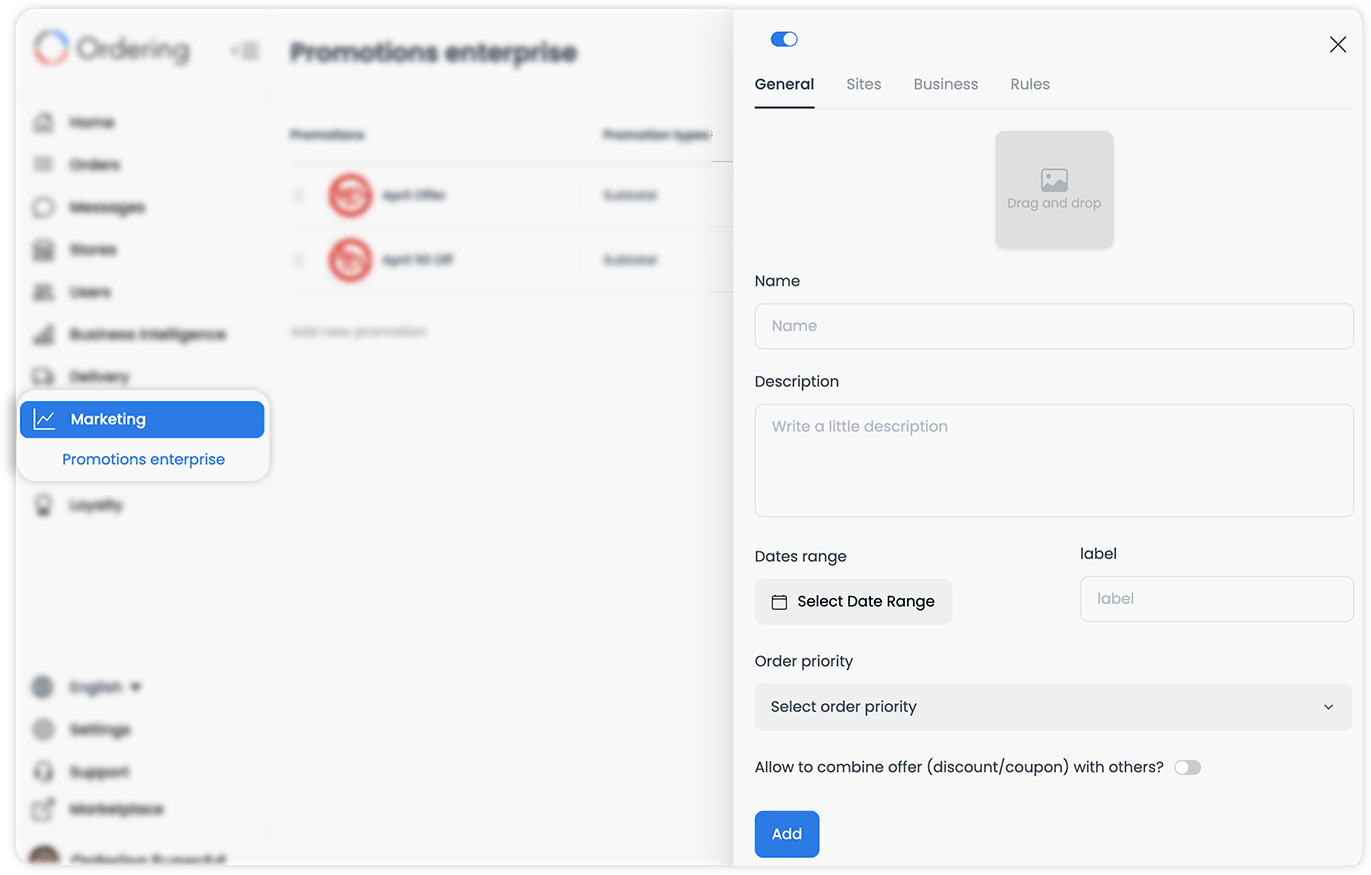 Here you are setting the basic information of this offer, such as:
Name
Description
Dates Range
Label
· This is internal information, use these as identifiers.
Order Priority
· If multiple offers have the same or very similar benefits, you decide which offer should take over instead of the other ones.
Check or not if this offer is Allowed to be combined with other offers (discount/coupon).
Continue with Sites: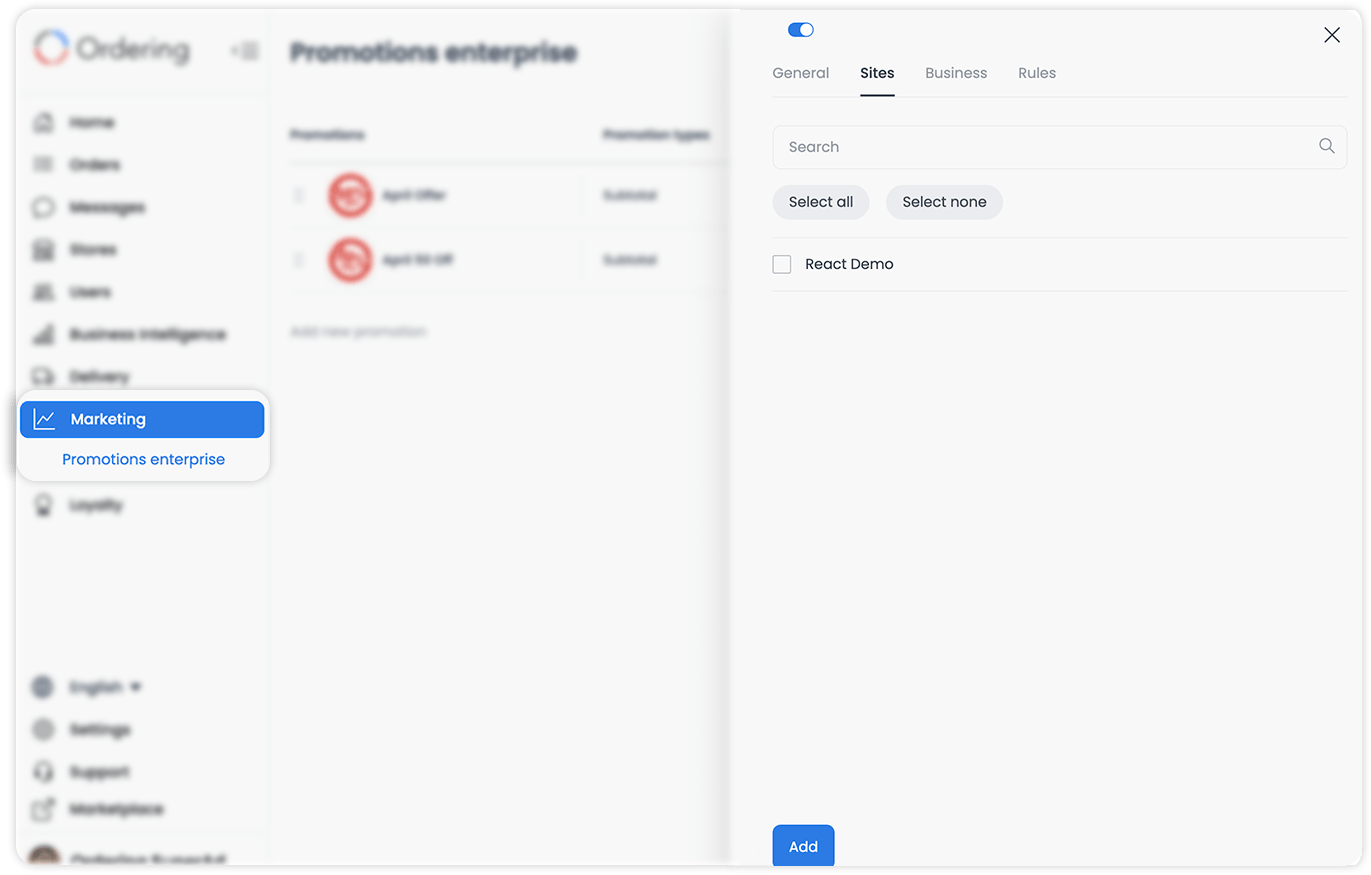 Here you'll see all the products you have enabled in your project, and you have the power to enable this offer specifically by product.
Then, we have Businesses: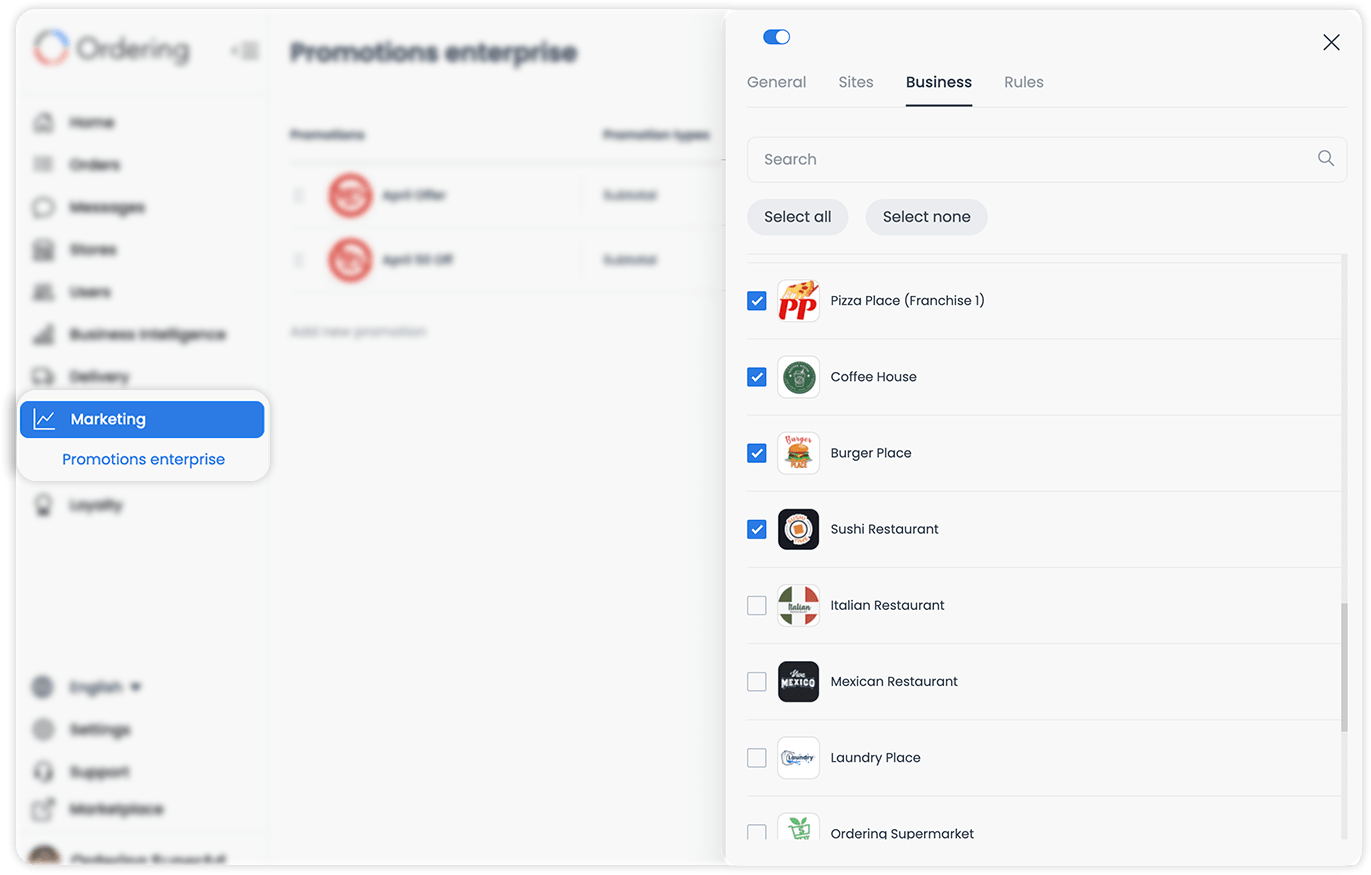 All the businesses added to your marketplace will show here, and according to your offer specifications, enable or disable the stores that this offer will apply.
Check and uncheck stores at will.
Last but not least, the essence of your offers, the Rules: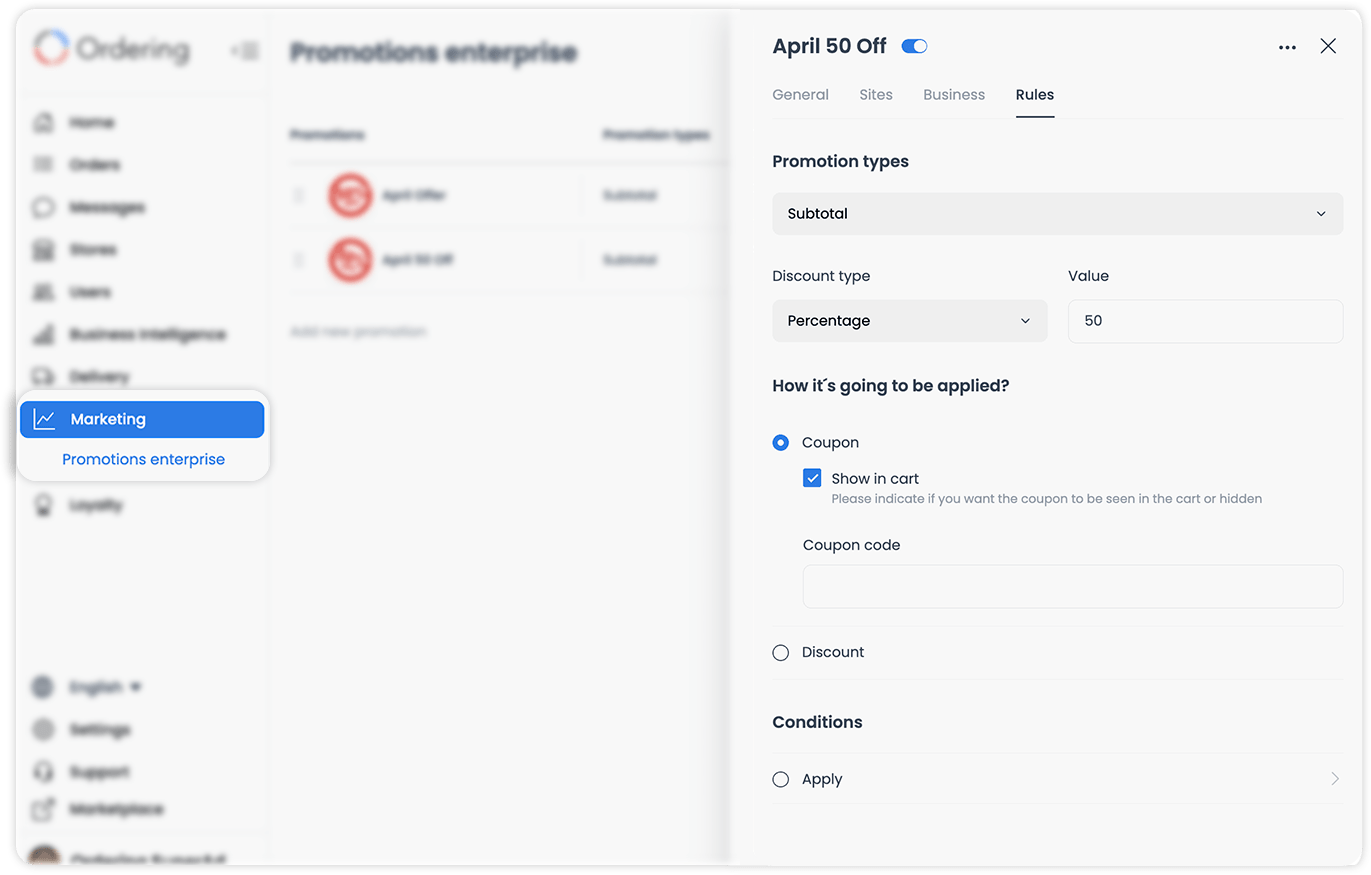 Let's break it down by actions right here.
Promotion Types
These included Subtotal, Delivery Fee & Service Fee.
· Subtotal: These offers will apply to the subtotal of the orders, meaning that if this order applies, the discount will be only for the subtotal of the order.
· Delivery Fee: These offers will apply only to the delivery fee, the rest of the amounts in your orders won't get a discount.
· Service Fee: These offers will apply only to the service fee, and won't affect any other amounts in the orders.
Discount Types
Here you'll specify if the discount will be calculated on percentage or by price (amount), and the value is according to the discount, for example; if you have a percentage discount type and value of 50, the discount will be 50%
· Percentage: This applies a % discount on the orders according to the value, if the value is 50 the percentage will be 50%.
· Price: This applies to an amount according to the value, if the value is 50, it'll discount $50 (or any currency you use).
How it's going to be applied?
Configure how will this apply, and how customers will apply these offers.
Coupon
Set if you want to show the coupon field in the cart, or only view it at checkout, and write down the coupon code, you can use this to your advantage with some creative wording.
These coupons will only apply if your customer writes it and click the apply button.
Discount
These are automatic discounts that will apply to each order if the conditions apply, for example, if you set a condition that this discount applies only if the order is over $100, this discount will only be applied if that is met (over $100).
Conditions
These are advanced rules that will be applied to your promotions, read one by one how each works.
Product Specific
· Assign the discount to a specific product, you'll see all the products listed in your marketplace, you can either select one or multiples.
Categories specific
· Assign the discount to a specific category inside your stores, this will apply to all the products inside that category.
Schedule limit
· If the offer is only for a limited time, this is where you set that ending day of the offer.
Max. amount of times that can be used
· Set a limit of the times that coupon or automatic discount will apply by order, these times are discounted until the order is placed.
Max. amount of times that can be used per user
· Set a limit on the time a user can use the same coupon code or discount, with this you'll give everyone a chance to take your promotions, and enjoy your platform.
Max. amount of orders on the platform of the user
· Set a limit on the orders that can be placed with the discount or coupon by the user.
Payment methods allowed
· Establish if this promotion will take all payments, just cash, or only a few of the multiple payment gateways you have.
Maximum discount limit
· Set a maximum amount of discounts that can be placed, this will guarantee your marketplace not to give items for free when multiple offers may apply.
Delivery zones
· Set a promotion according to the location of your users, imagine you have multiple delivery zones and you are looking to test a strategy in one of them, well this is where you configure it, select the zone you want to try and activate it.
Order Type
· There are multiple order types, such as; pickup, delivery, curbside, drive-thru, and eat-in, select the ones you need the promotion applies on, for example, if you have a promotion in-store, you can enable only eat-in for that promotion.
Minutes from the last order
· Decide if some of your customers might get an offer a few minutes after they've just purchased, kind of like up-selling and remarketing.
Minimum purchase
· Establish what would be the minimum amount in the order for the promotion to apply.


As Always, Happy Ordering.
www.ordering.co