Advanced Logistics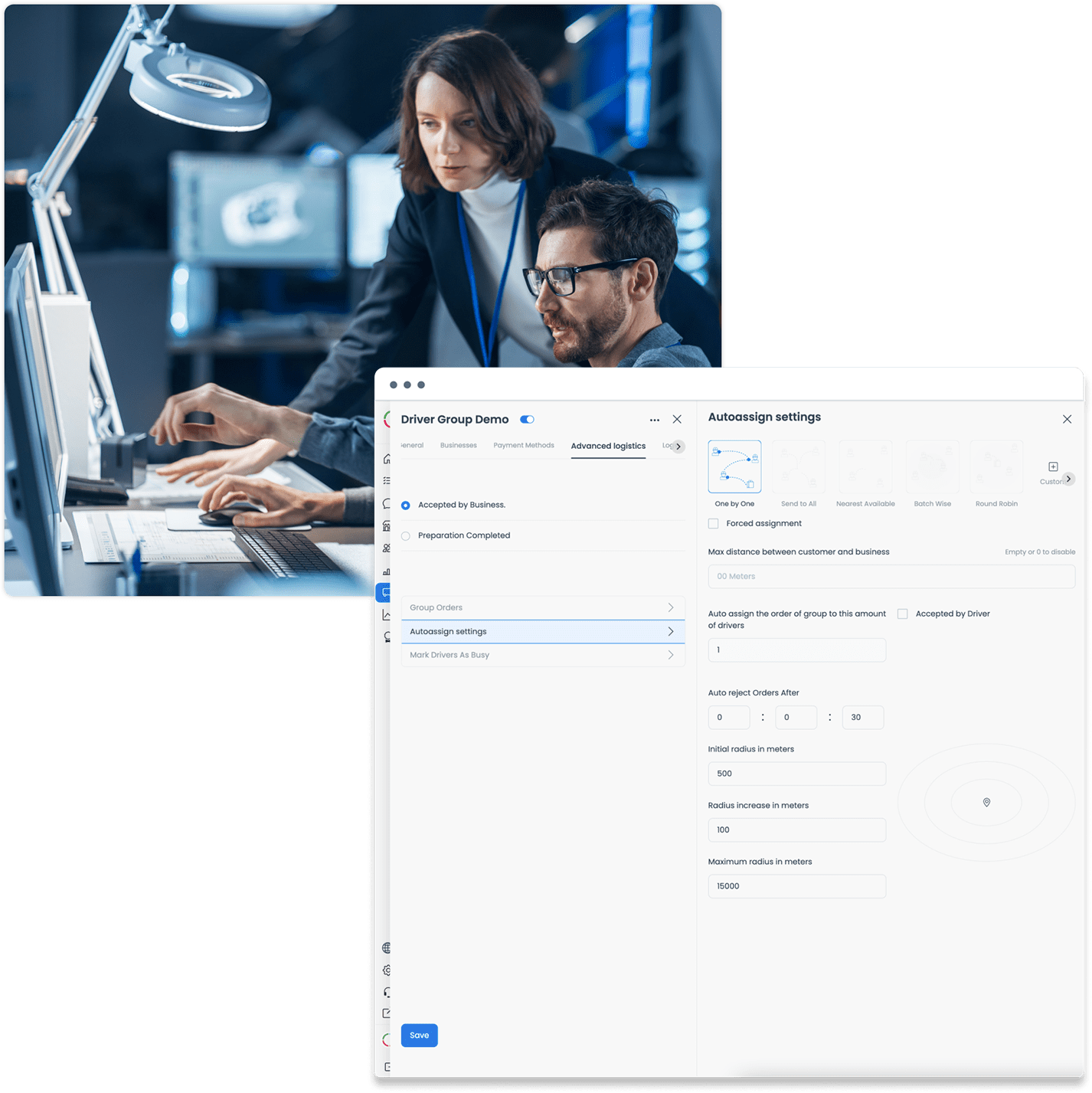 With Advanced logistics, you will leave the entire work of assigning orders to intelligent software that will guarantee the delivery of every order in time based on multiple configurations.

From the distance between points up to the time, it'll take care of every minute and every meter/mile.
Benefits:
◉ Automated Enterprise Logistics Technology.
◉ Amazon Web Services Hosting.
◉ Driver assignation by specific configurations.
◉ Automated Increasing radius by coverage area.
◉ Default intelligent auto-assignment types.
◉ Integrate third-party drivers group.
◉ Auto-reject features to avoid time waste.

◉ Distance logistics between customers, drivers, and businesses.
Get the free documentation of Advanced Logistics 2.0.
Here is how it works:
1st ·

Auto-assign Settings

To enable the advanced logistics feature, you must set the Auto-assign Type as Enterprise.
This will enable the advanced logistics feature on each of your drivers.
2nd · Driver Groups: General

The customer app must know where you are ordering from all the time. Based on this are the businesses available going to show for you, add as much information to the companies to deliver efficiently.
3rd · Advanced Logistics: Group Orders

Let's start with the Advanced Logistics Tab; here, you'll start by setting up a maximum of orders by driver group maximum time between charges to get assigned.

Also, you can set a maximum distance between businesses and deliveries; this way, you guarantee every order you get to deliver is optimal.

If you enable maps API, you'll be able to set up a more advanced configuration where you take time as another variable for orders to get assigned.
4th ·

Advanced Logistics: Autoassign settings

Here we have the auto-assign settings; these must be filled according to your business's daily operations.

· Auto-assignment type.

·

Force assignment.


·

Max distance between customer and business.
· Auto-assign the order of the group to this amount of drivers.
· Accepted by driver setting.
· Auto-reject order after.
· Initial radius in meters.
· Radius increase in meters.
· Maximum radius in meters.

5th ·

Mark Drivers As Busy:

Set the maximum of orders that the driver group can have at a time.

Remember that if you set the advanced options, you can give your drivers more effective work-at-a-time and do not interfere with the driver's times.

This is the last step for your advanced logistics configuration.
6th · Order Assigned

Once the logistics process runs and ends, the driver's work starts; an order will get assigned to a driver.

Each driver will get a push notification when the order gets assigned.
Looking to learn more about Advanced Logistics?
Get the free documentation.

As Always, Happy Ordering.
www.ordering.co