Start selling with your own Branded Kiosk
Did you know that 7 out of 10 customers prefer to make their orders themselves?
Ordering Kiosk 2.0 completes that final step for each sale.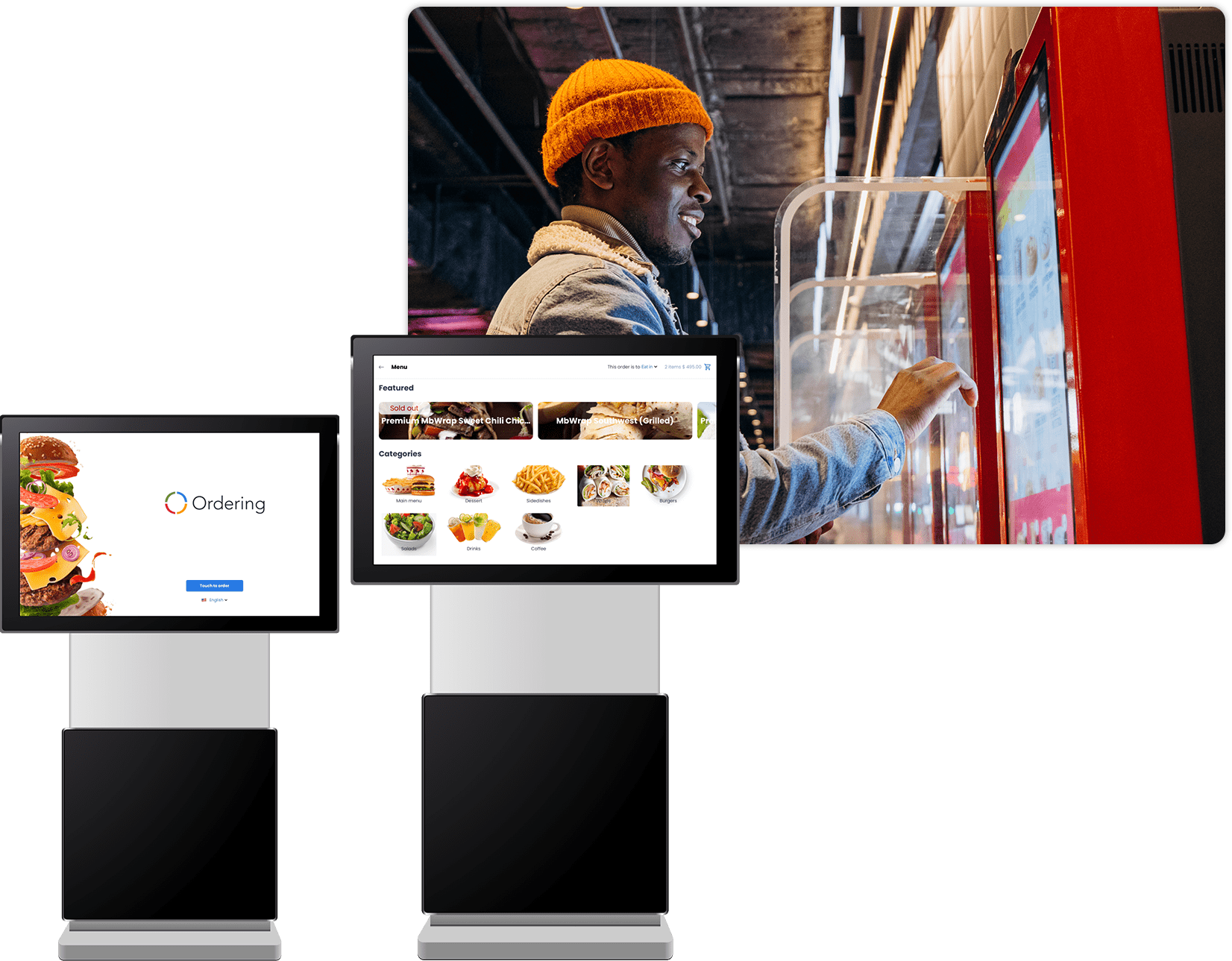 The Ordering process for each individual might take about 5 minutes or less. Do not let them waste time in long lines to order, that's the past, this kiosk is your future.
Benefits:
◉ Custom branding according to your design guidelines.
◉ Increase your staff productivity.
◉ Convenient & Contactless ordering processes.
◉ Suitable for any industry, product, or service.
◉ Upsell more just before customers are ending their orders.
◉ Avoid line busting and enhance your customers' experience.
◉ Reduce customer waiting times.

◉ Increase order accuracy, and avoid misunderstandings.
Here is how it works:
1st · Home Screen

Our Kiosk is designed so that your customers can use it effortlessly.

This first screen is where all the magic begins; here, you can add an image of your business or whatever you like the most, which is the first thing you want your customers to see.

They will have the option of choosing the language in which they want to place their order before starting.

And to start, you have to click on the button that says "Touch to order".
2nd · Order Type

The purpose of this selling channel is to allow your customers to order in-store and then take out the order at the counter or just eat at a table.

We are keeping it as simple as possible to give your customers the best experience.
3rd · Menu

In our Menu section, the client will find all the categories that you have available and the products of each one of them.

Each store usually has a popular product. You feature the popular products directly by choosing them from your Ordering Dashboard.
4th · Categories

These are all the categories your business has available; add as many as required.

All your categories will get separated by a title and an image.

When the client chooses a category, it will appear in this way, where he will see all the products that make up the same.
5th · Product Details

Details about your product:
If the product is sold out at the time, a big banner will pop for customers to know it's no longer available.

However, if you disable it from your entire store, it won't even show.

Extra
Some products have product options (If you configure it so).
If your product has product options such as; size, toppings, etc., you'll jump to another screen (in the next section of this pdf).

If the product does not have anything else but price and name, it'll get automatically added to your cart.
6th · Checkout &

Place Order.

The cart is on your right; you will see the items added so far, with all the details of your order, the fees that may apply, your products, and the total of your order.

If there's anything to change, you can do it right here in just a few clicks.
7th ·

Upselling

With this feature, you can suggest a product (or a bunch of products) like beverages or desserts in your customers' cart.

Ecommerce upselling is possibly the easiest way to increase your store's sales…

● Upselling increases revenue by 10-30% on average.

● 70% - 95% of revenue comes from upsells and renewals on average (for companies who offer them).

● Upsells are 68% more affordable than acquiring a new customer.
8th ·

Payment Method

Give all of your customers the chance to pay with cash, card on delivery, PayPal, Stripe, Stripe Direct, Stripe Connect, or Stripe Redirect; these are the ones we have so far without any extra cost and pre-integrated.

However, we can connect any payment gateway you'd like.
9th ·

How should the cashier call you?

With our Kiosk, you will have a way for your customers to write their names on each order they make.

This way, it will be much simpler and more accessible for your business to know who it is from and not fail in its delivery.
10th ·

Confirmation

In the confirmation, you will see your order number; with this, you can follow up quickly. Also, you can review your order once finished.

On top of that, view what you've ordered and confirm that your order has already been received.

At the bottom of the confirmation, clients can put an email to receive the receipt of the order they just made.
Looking to learn more about the Ordering Kiosk 2.0?
Get the free documentation.


As Always, Happy Ordering.
www.ordering.co