The last settings inside your Ordering Dashboard have certain information that will give your whole platform more specific aspects according to your brand, and guidelines you'll work with, make sure to give it some time to set it up and make the most of it.
Basic Settings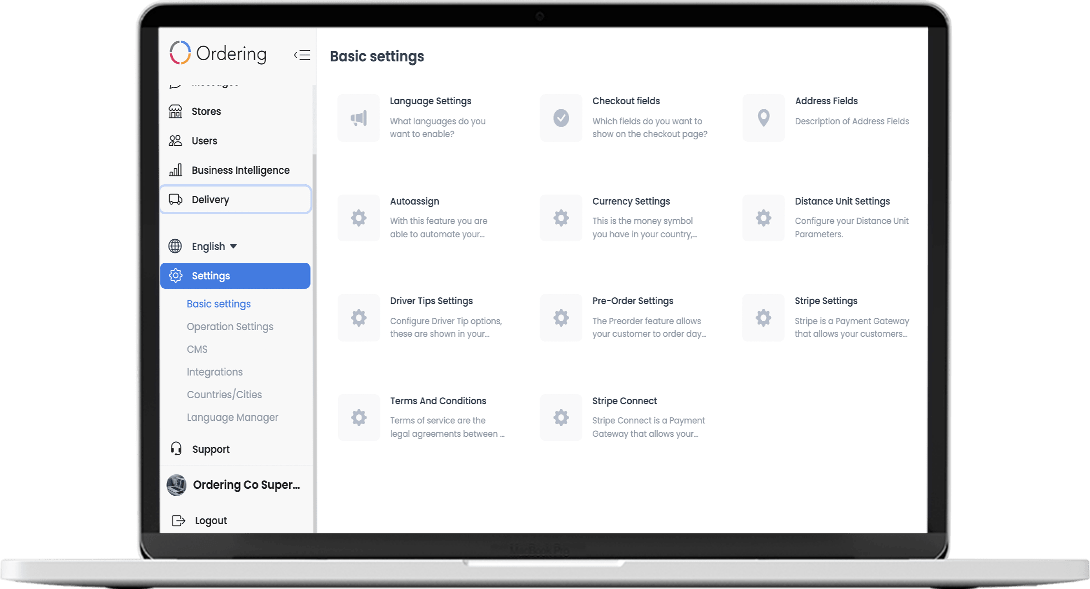 We'll go one by one, these are basic yet important settings for your whole platform to work.
Language Settings.

Establish which languages your platform will support, it can be multilanguage, and also set a default language for your entire platform.

Checkout Fields.

Set which fields are going to show at checkout for your customers, and also configure the required and which fields are showing and which not.

Address Fields.

In your Search address, which is a crucial part of your customers to order and see businesses, you can decide which fields will display and which are displayed.

Auto-assign.

With this feature, you are able to automate your delivery process according to what your business requires.

Here you have several settings that will help you set everything and automate each order assignment, learn more here →.

Currency Settings.

Set the currency for your whole platform.

Distance Unit Settings.

Set up if your platform accepts "KM" or "MI"

Driver Tips Settings.

Establish if your driver's tips are "Fixed" or "Percentage", and the 4 options that show at checkout.
If you add "Custom Tip", the customer is able to write exactly the tip they want to give.

Pre-Order Settings.

Set up the days ahead the customer can order.

Stripe Settings.

Everything your stripe account needs go here.

Terms and Conditions.

Terms of service are the legal agreements between a service provider and a person who wants to use that service.

Stripe Connect.

Stripe Connect is a Payment Gateway that allows your customers to pay with a credit/debit card and allow them to set up commissions.
Operation Settings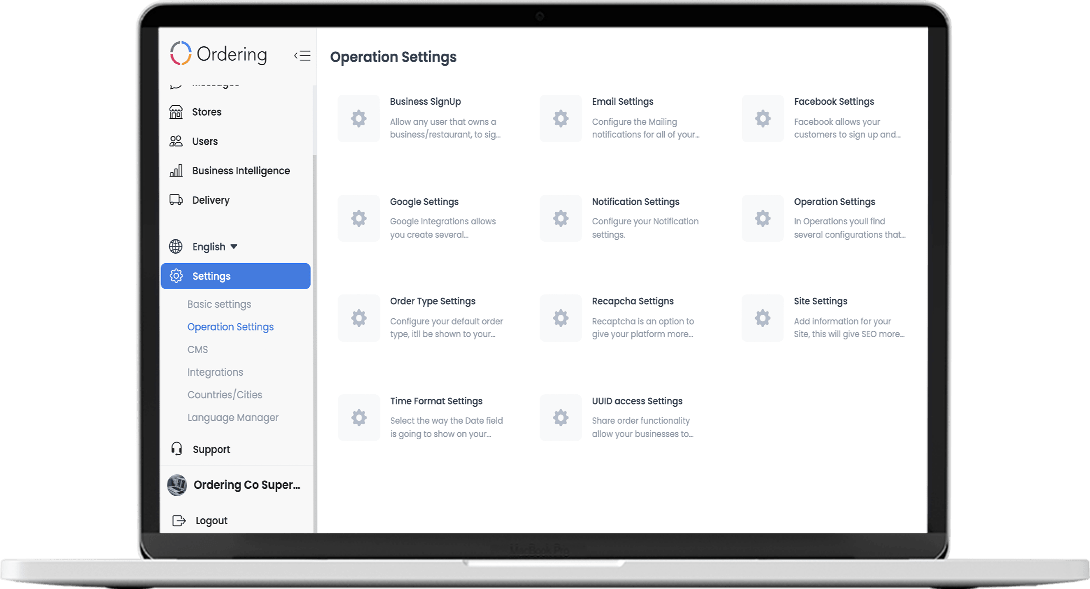 Business Signup.

Allow the business to manually create their store stores by themself, and select if you want to approve before their store it's created.

Email Settings.

Establish which emails according to order status are being sent to each user level.

Facebook Settings.

Facebook allows your customers to sign up and log in easily to give the best customer experience.

Google Settings.

Google Integrations allows you to create several connections between services used worldwide, such as Maps, login, and Analytics.

Notification Settings.

Establish which notifications according to order status are being sent to each user level.

Operation Settings.

Find several configurations that can enhance your customers' experience, and also your business method.

Order Type Settings.

Configure your default order type, it'll be shown to your Front-end Products. (Delivery, Pickup, Eatin, Curbside & Drive-Thru.

Recaptcha Settings.

Recaptcha is an option to give your platform more secure and avoid any robots or any suspicious new user.

Site Settings.

Add information for your Site, this will give SEO more information to rank your website.

Time Format Settings.

Select the way the Date field is going to show on your platform.

UUID Access Settings

Share order functionality allows your businesses to modify all of the menus easier.
CMS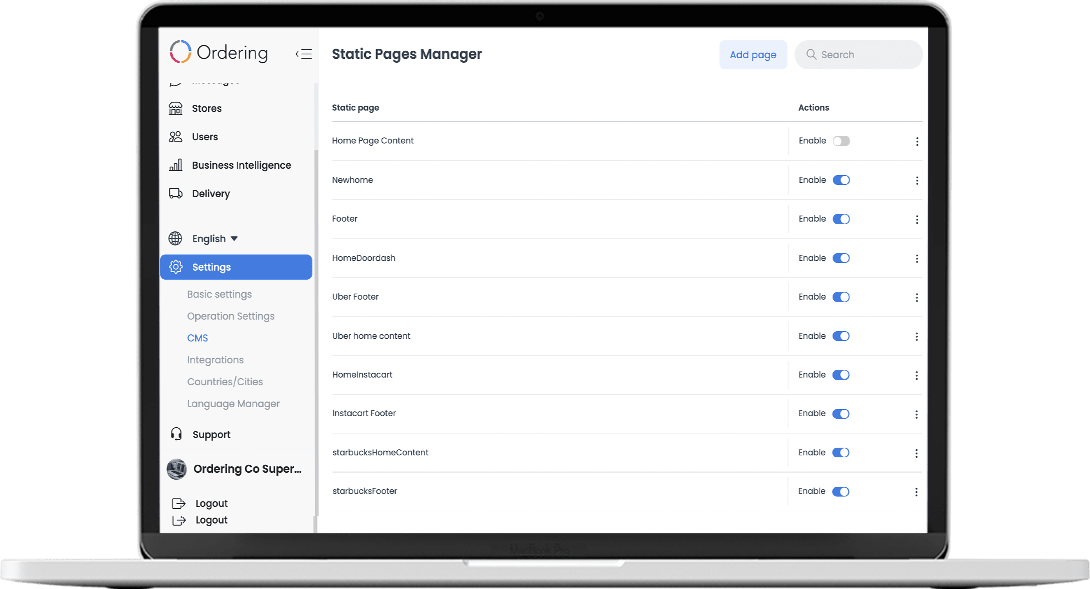 This also known as Static Pages Manager allows you to create pages inside your Ordering Website and Ordering App to give your customers more information and also to create blocks and show them on your home page.
This requires a bit more changes, so make sure to make the most of it, it can take some time, but is very rewarding for the customer experience.
Integrations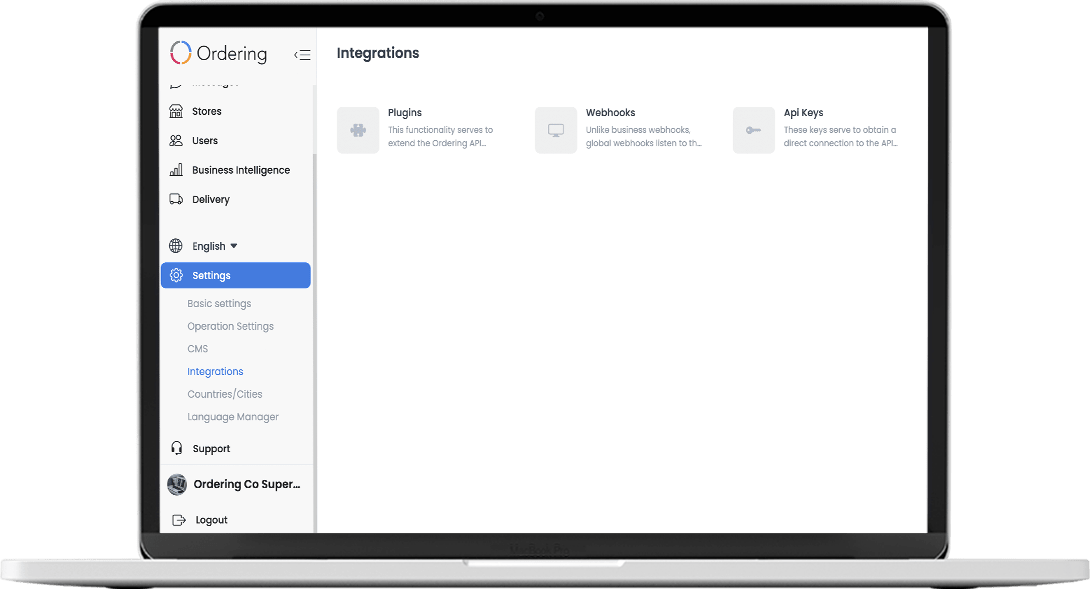 Inside here you have a few more advanced configurations that will enable your platform to expand and increment your connections or automate certain aspects of your platform to perform more advanced automation.
Here you can add Plugins, Webhooks & API Keys.
Countries / Cities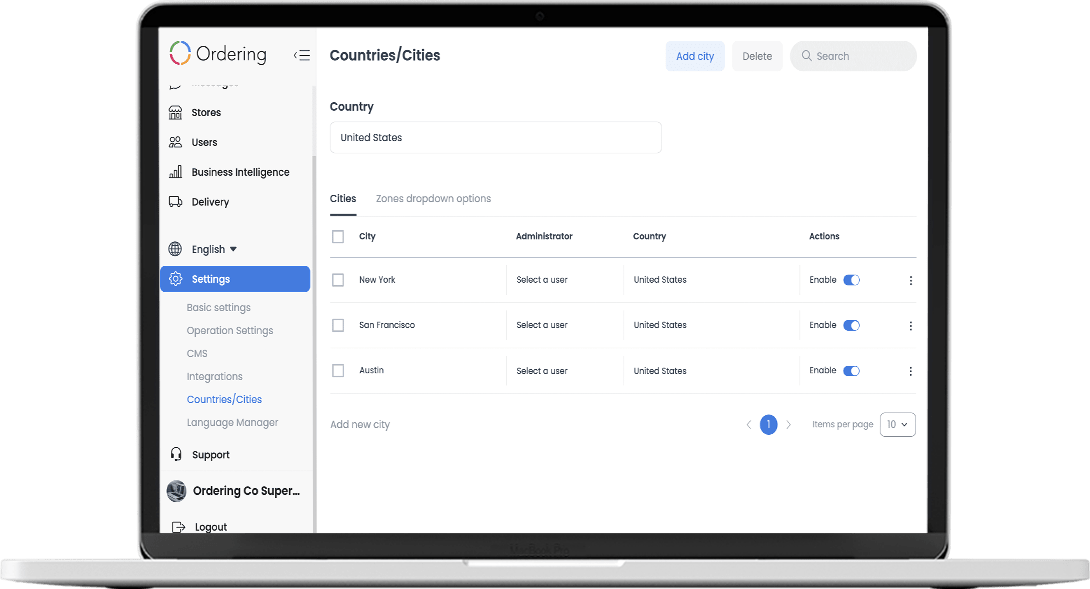 Here you can Add the Cities and Country your platform supports, remember you can only add one country by platform.
To use the Zones Dropdown options, please contact your support agent for more information.
Language Manager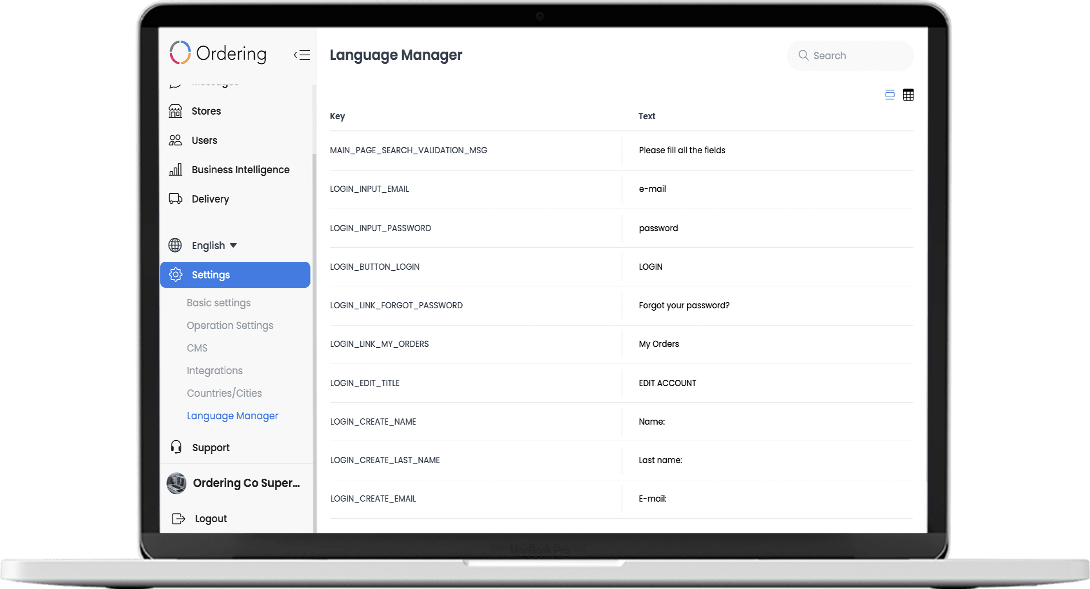 This is a very important module to give your business the specific branding you are looking to show to everyone that uses your platform.
By this I mean you can change every single word or phrase in your whole platform.
All you have to do is search for it in the search box, find the word or phrase, and then change it.
If you have any questions, do not hesitate to contact us at sales@ordering.co.

Keep on Improving, every day.
As Always, Happy Ordering
www.ordering.co