Inside this module, you'll get all the information necessary to make the next move in your business growth, take crucial decisions to create your next marketing campaign.
Let's go one by one.
Business Analytics
Inside Business Analytics you'll find information about your orders, sales, top products sold, most chosen categories, the status of orders, registered users, customer satisfaction, time spent to accept orders by businesses, and time spent waiting on ready for pick up.
There's also a Map which can be a heatmap to detect the hottest order zone or view all of your order's locations, these will get grouped if there are many orders made from the same spot.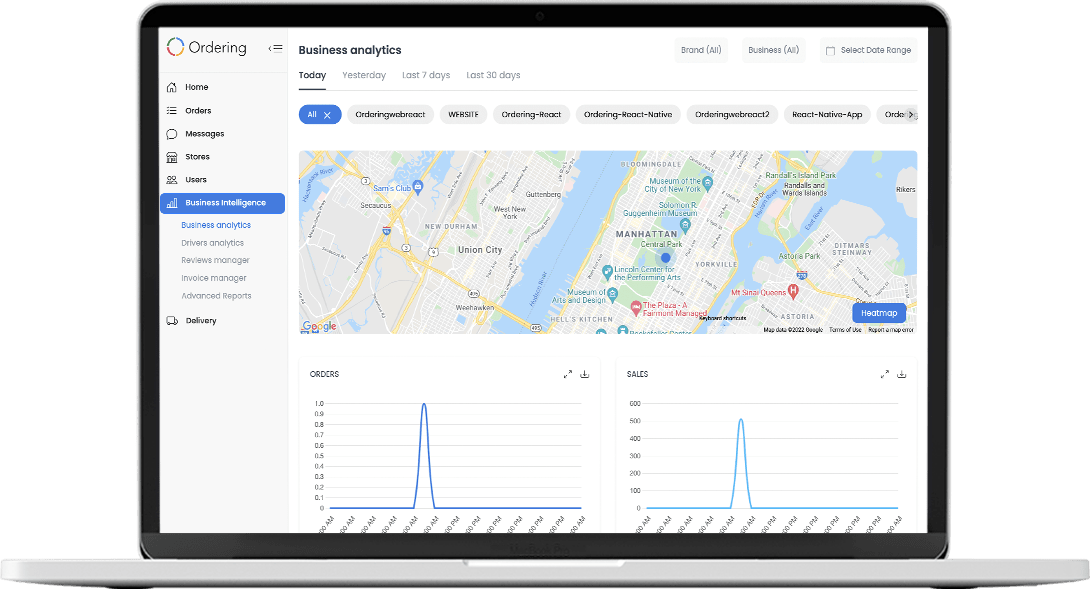 Drivers Analytics
As the business analytics, this information of drivers works very similarly, the only difference is that this is focused on your deliveries and your drivers.
On top of all the filters, you can add, here can also filter by Driver Group, and Drivers, meaning that you'll get as much detail by each driver, as you'd like.
Things that you can check on these reports.
Orders.
Sales.
Top Orders.
Customer Satisfaction (your drivers can be qualified by customers).
Order Status (Make sure the most used is "Delivery completed by Driver").
Times: what is the time everyone orders most.
Available Times: If your drivers are set as available this will start filling up, if not, something might be wrong with the way your drivers use the App, or... well, you don't have drivers.
Busy Times: If your driver sets himself as busy, you'll know for how long.
Time Spent To Accept orders.
Time Spent in Business Waiting for Order.
Time Spent to Deliver Order.
Time Spent Since Order Accepted to Pickup and Deliver the Order.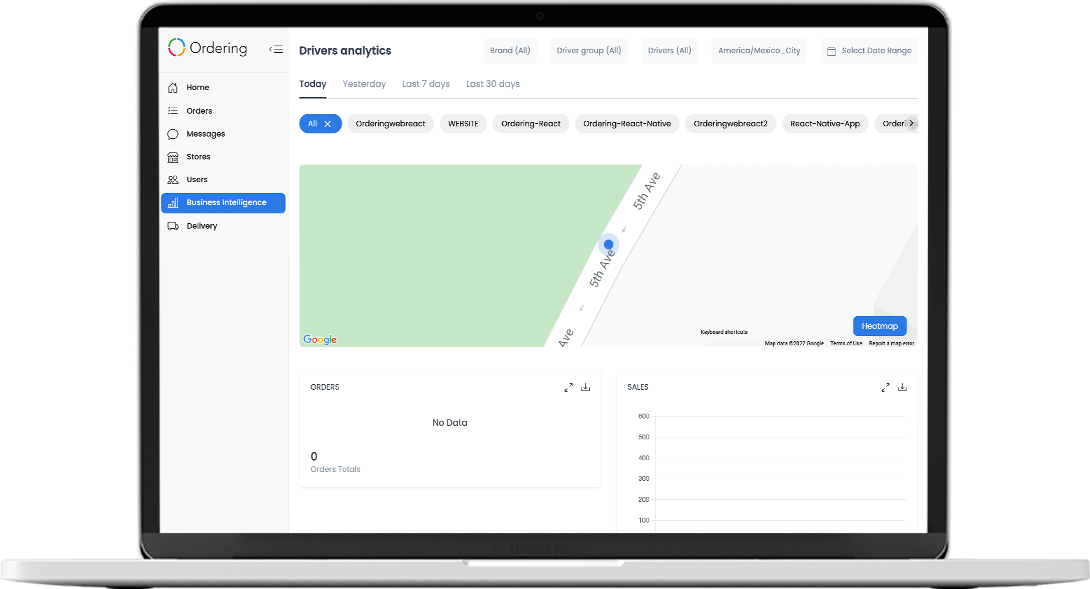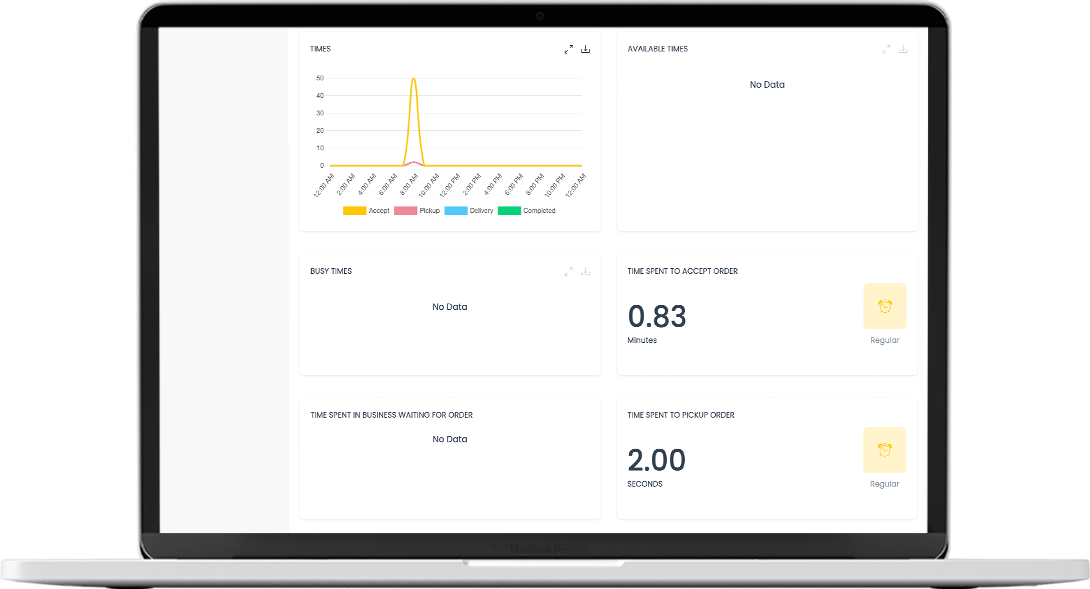 Reviews Manager
Here's where you can qualify and improve the way your whole platform is performing, just as in any business you need to have your final customer happy.
Inside reviews manager, you'll see how your Businesses, Drivers are qualified by customers, and also, (here's a twist), you can see how your Customers are qualified from your businesses, this way you can take the next action, you can congratulate them or ban them.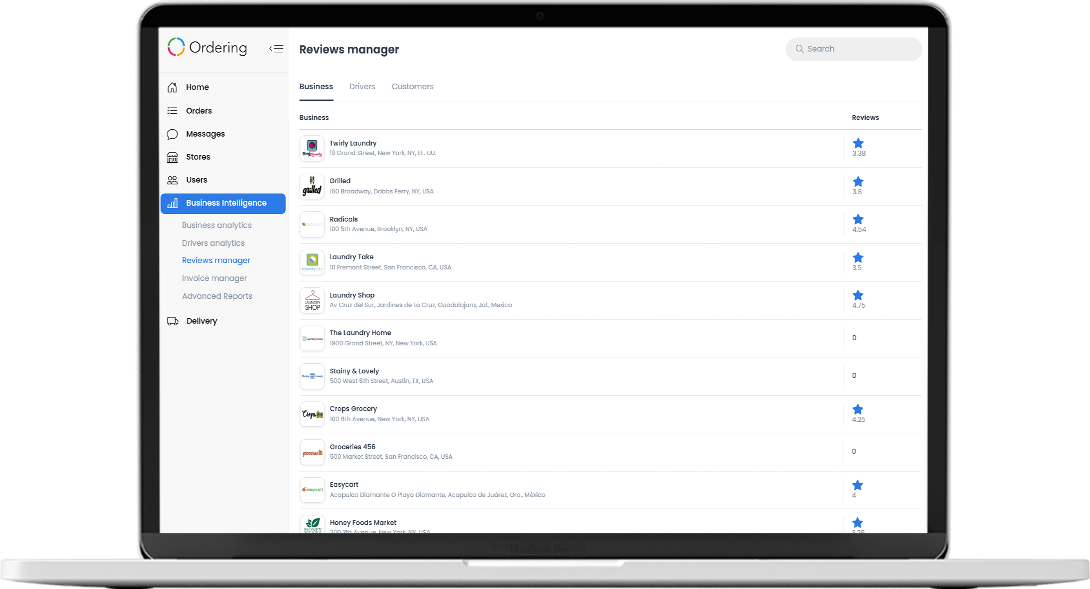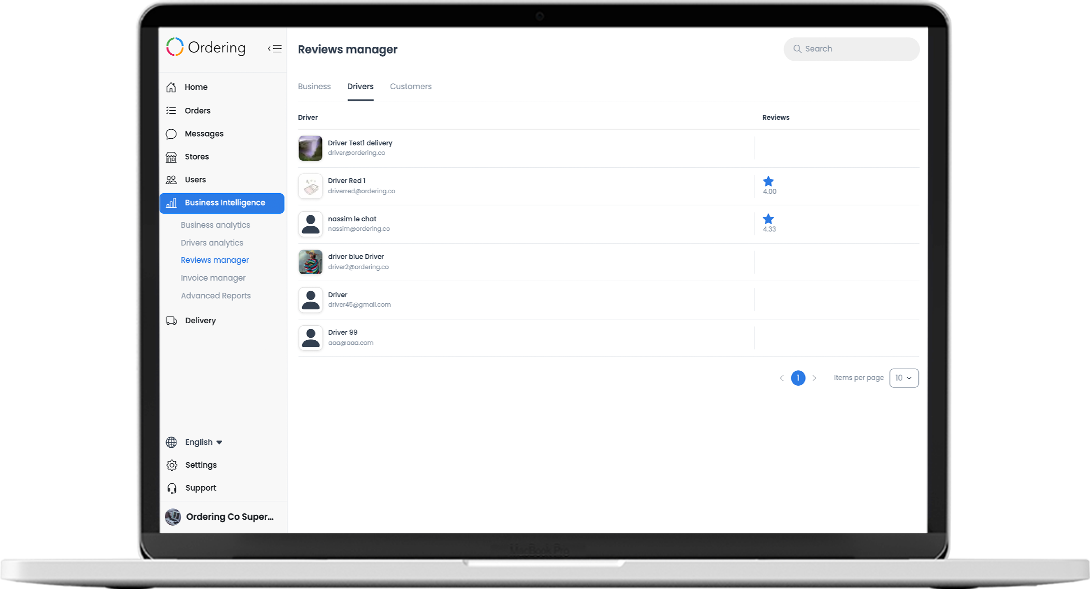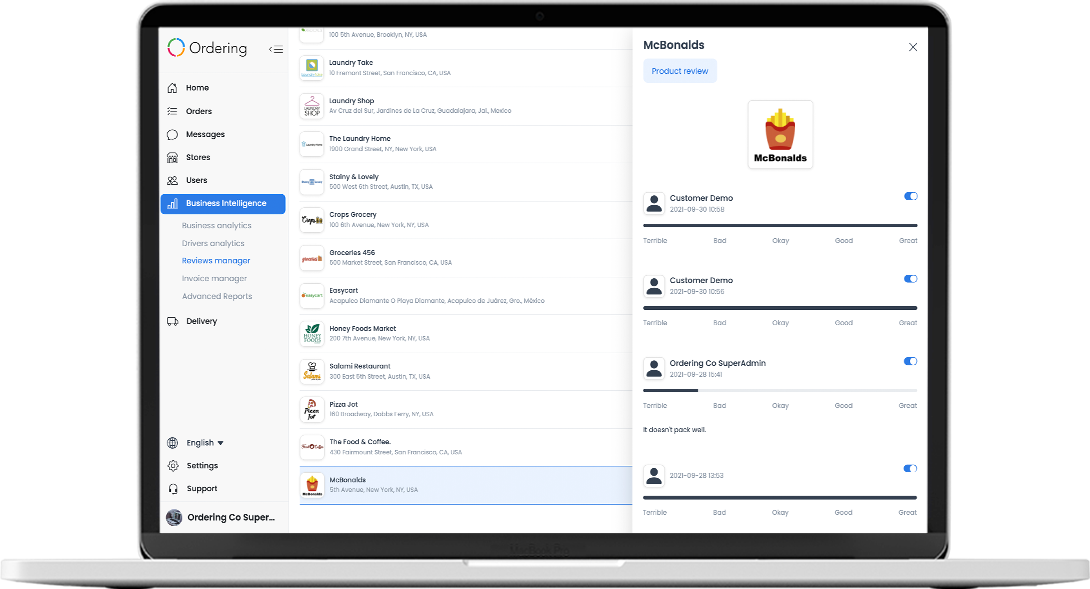 Take smart decisions in terms of work happiness, it's very important.
Invoice Manager
Perfect for accountability, inside this module, you can create a PDF with the invoice you have to give each of your businesses and drivers, remember, this is only to create the PDF, the paying, getting in tax system stuff, etc, it's not available inside this feature.
You'll have all the required options to charge or pay your customers and driver.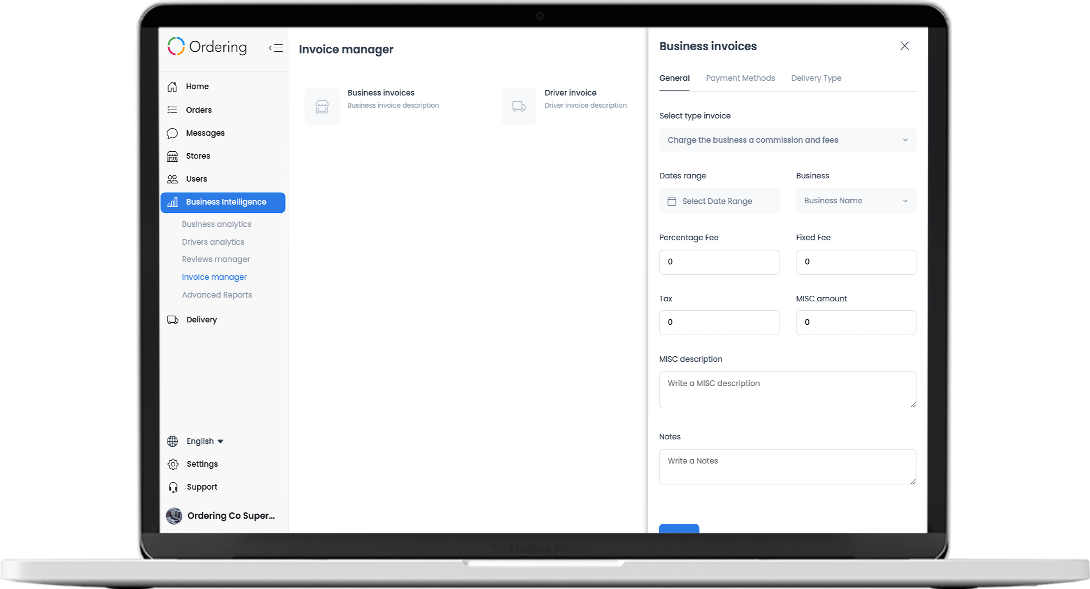 Advanced Reports
On top of all the analytics, reviews, and information you have above of your whole platform, here you have even more detailed reports that will help your marketing strategies.
You have:
Distance: To calculate the distance where your customers are ordering from and set up the perfect delivery zone with the right amount to be charged.
Distance in KM from Store to Customer.
Service Times': Know what's the time of the day with the most movement.
Detail of the completed orders for each delivery agency.
Number of orders within a specific range: At what time the orders were made precisely.
Driver Schedule: Understand what times your drivers are really working.
Order Status: View all the orders by status, if you found some discrepancy, it's time to get inside the ordering process.
Heat Map: View the hottest zone of orders placed.
Driver Distance: The distance the drivers have moved.
Time: What status the drivers have and for how long.
Top Drivers: Your most reliable drivers. (orders delivered, timing, reviews)
Orders: Quantity of orders by time and date range.
Sales: How much it's been sold by time and date range.
Register Users: Quantity of registered users by time and date range.
Customer Satisfaction: These are the qualifications of your whole platform in one place.
Pay Method Sales: Understand how your customers are paying.
Average Sales: Understand the average ticket amount.
General Sales: Everything that's sold, how much.
Top Selling and Category: View which is the best seller category.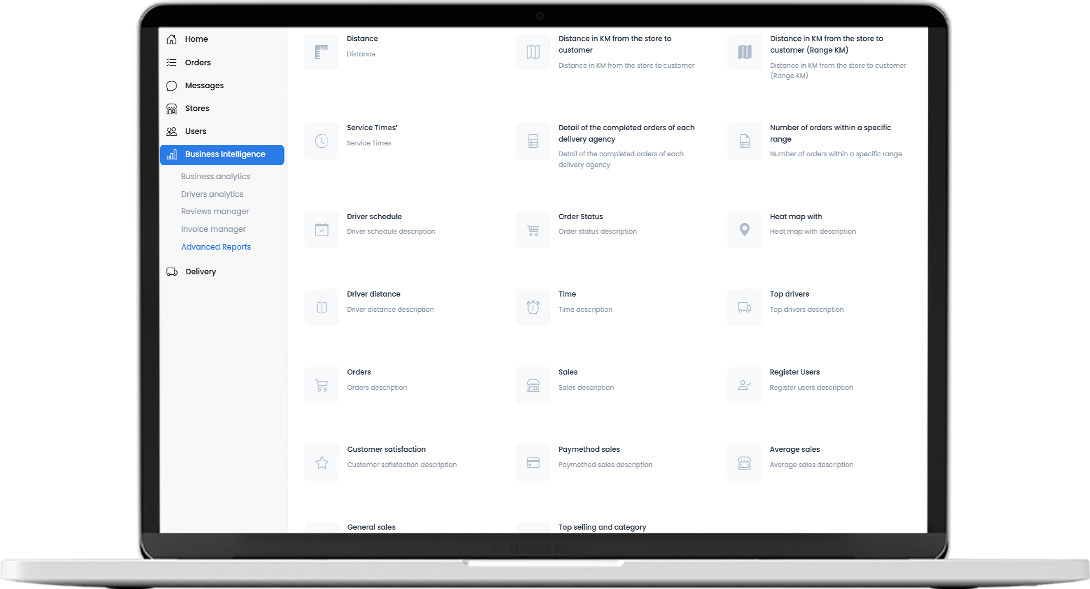 If you have any questions, do not hesitate to contact us at sales@ordering.co.

Keep on Improving, every day.
As Always, Happy Ordering
www.ordering.co