These settings are allowed in Ordering React Website and Ordering Website.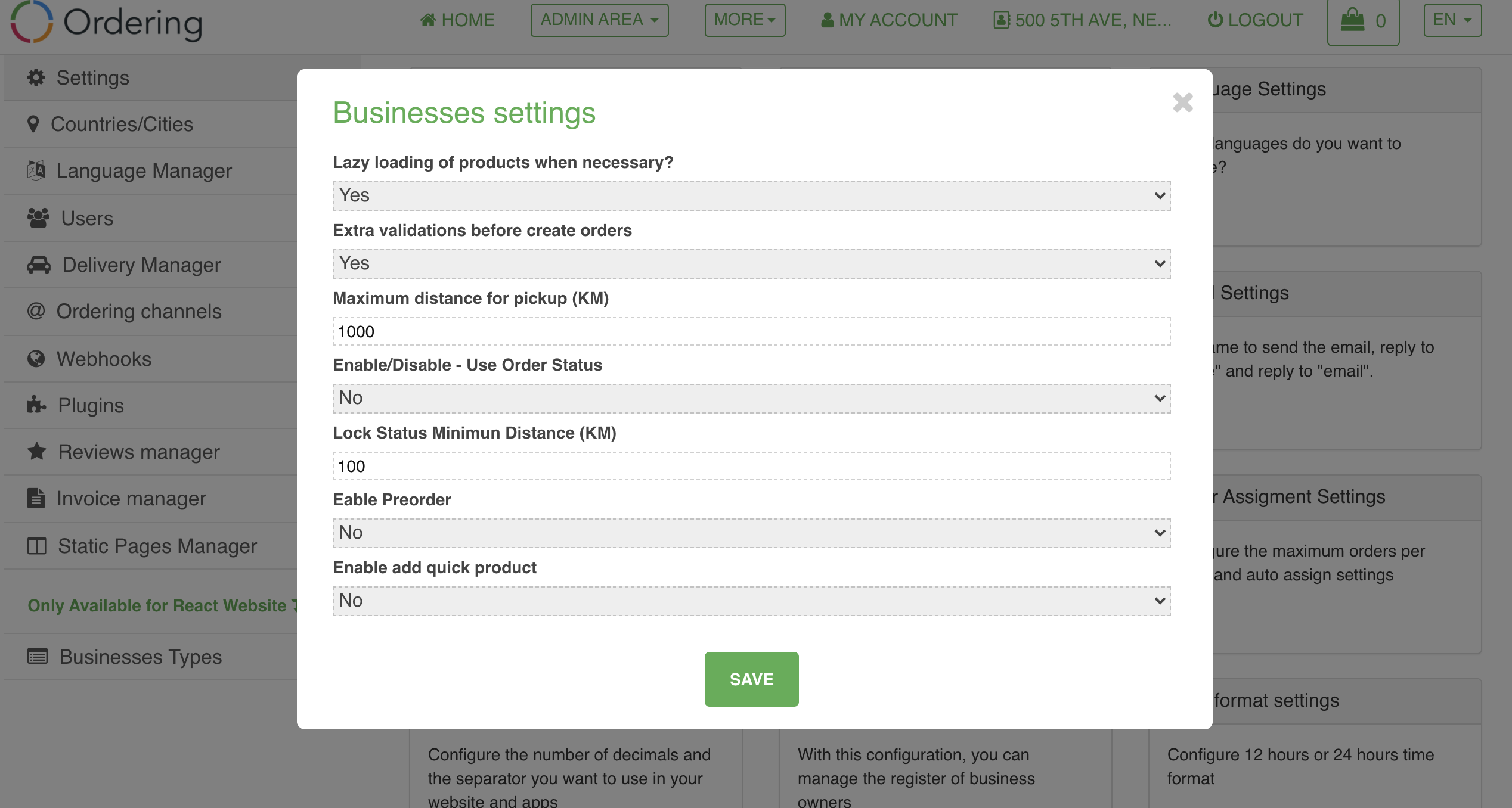 Lazy Loading:
Lazy loading of products will help you to load your products faster if you have more than 1000 products.
It'll load a bulk of products by bulk, this will decrease the loading time, hence, load the first bunch of your products faster.
Extra validation before creating orders.
This validation will allow your customers to validate the purchase they are about to make by looking at all the validations required to finish your order.
For example: If a customer is about to order and have to leave, the cart gets saved, when he gets back, maybe the product get stock out or disabled while he was gone, so this validation will tell the customer what's new about this product instead of having a misunderstanding later on with the business.
Maximum distance for pickup (KM)
According to your location, this setting will establish the limit when the customer's order is for pickup.
Meaning: the customer will only be able to see businesses in an XX km radius.
Enable/Disable - Use Order Status
This option is to enable a feature that allow to the driver to change the order's status when he/she is not near to the business and customer.
Lock Status Minimum Distance (KM) is to add or manage the distance that the driver must be from the business / customer to change the status.
PS: Enable/Disable - Use Order Status and Lock Status Minimum Distance (KM) work together.
Enable Pre - Order
Like the name says, it will allow customer to make an order on another time.
The customer will complete the Ordering process as normal with the last option being choosing a later date and time.
For more information, take a look at this article Pre - Order
Enable add quick product: this option allow to your customers/users to add a product with just one click without the need to add comments on the product.
PS: This option is only available for the Ordering Website 2021.
We hope you liked this explanation.
If you have more questions do not hesitate to contact our Support Team.
As Always, Happy Ordering.