The Facebook Login is a really easy way to register for your customers, also it can guide your Facebook page a get a lot of likes!
Due to this use your own Facebook, we recommend that you make the configuration, in the end, this is your business, but do not worry, here you can find an easy way to do it by yourself!.
Configure your Facebook Developer Account
To configure you need to create an account, in https://developers.facebook.com/
Once you have an account you need to "Add a new Application".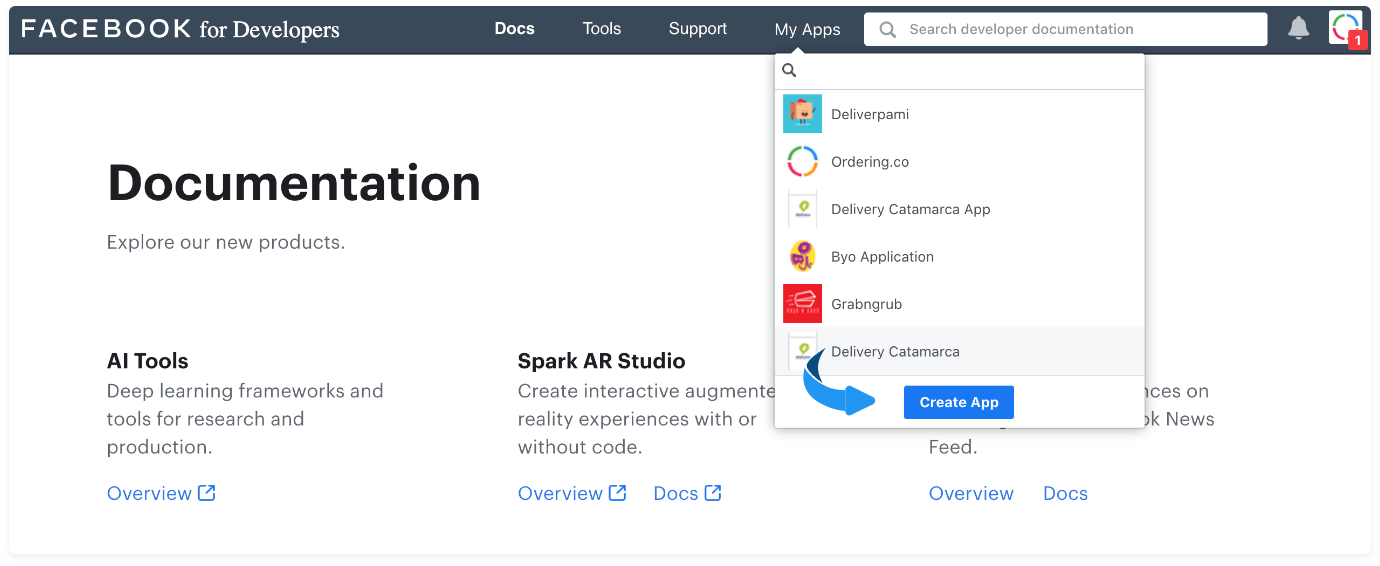 Then you need to select the build connected Experiences option, then to continue.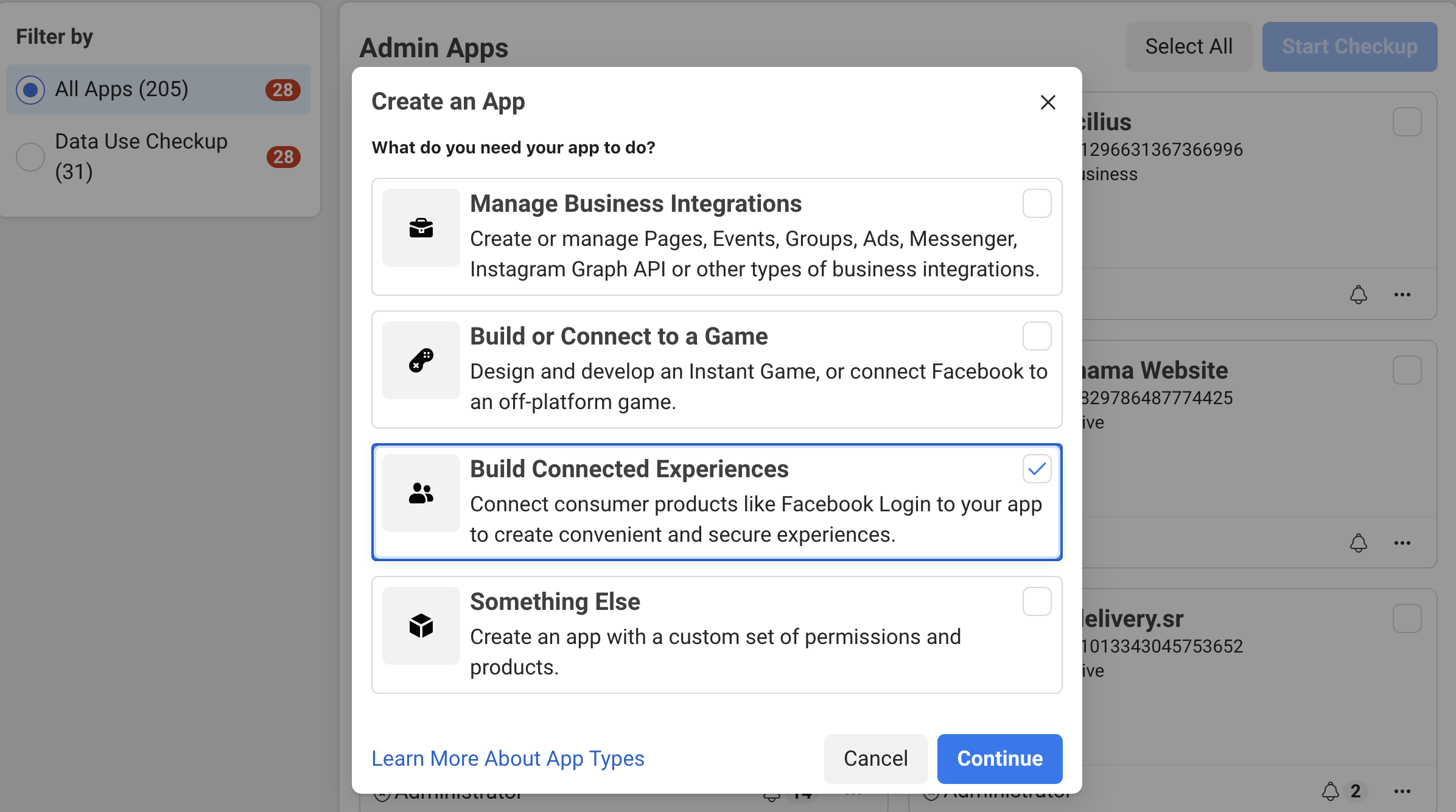 Type the name of your app, and verify that the email that shows is correct.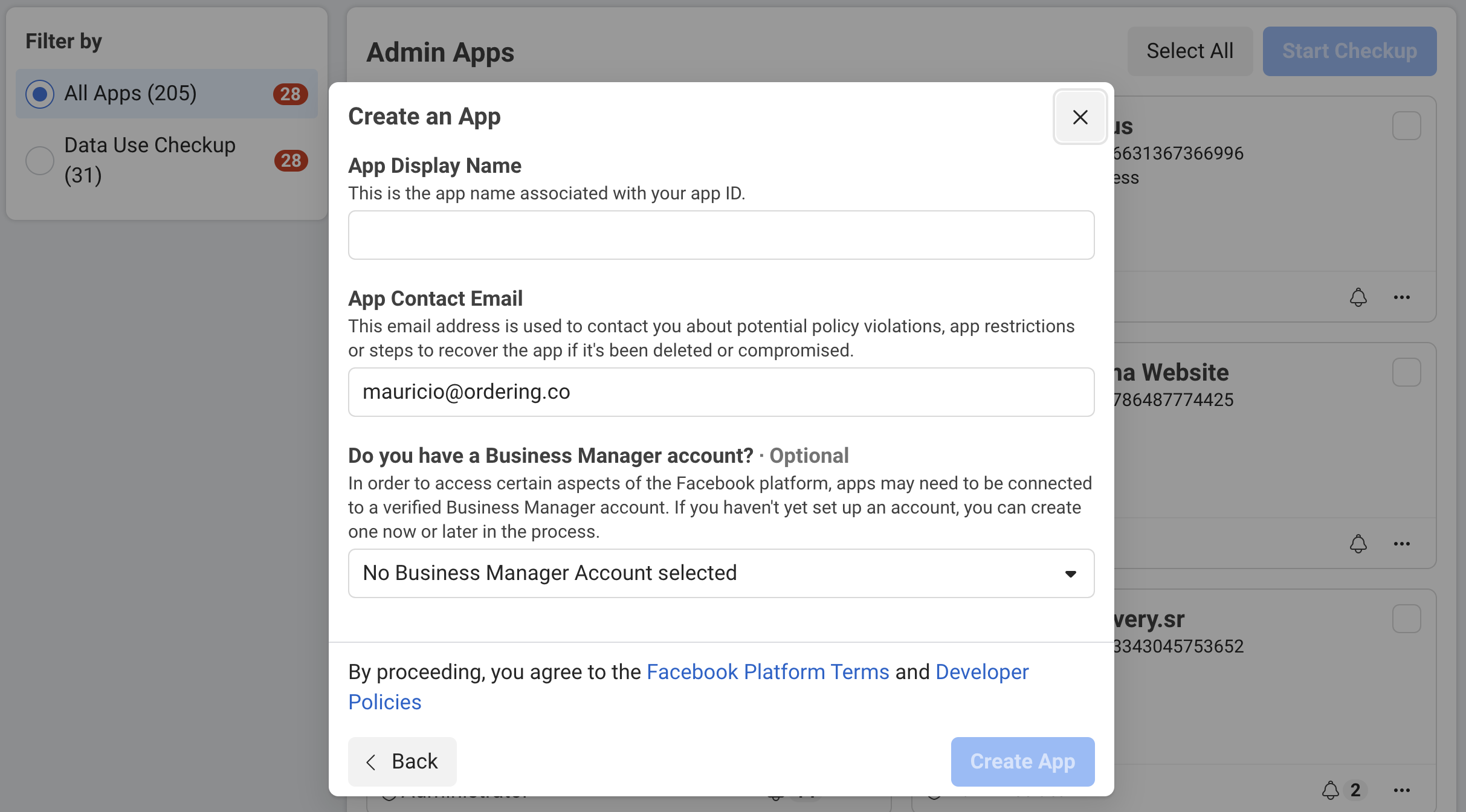 Then go to settings and fill the information.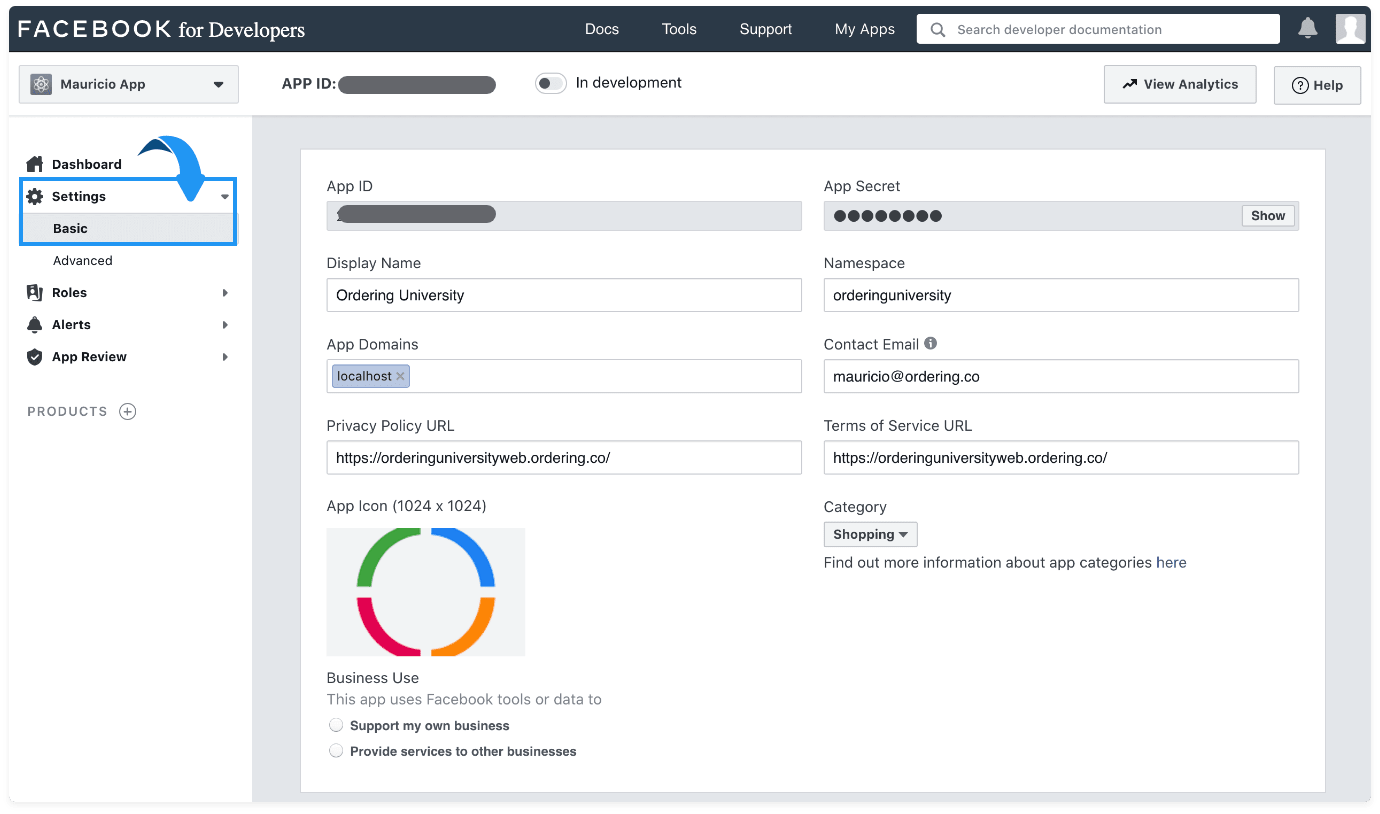 Also, after putting in "App Domains" the localhost tag, also put your domain, like https://www.ordering.co/, Is should be end looking like this:

Please fill these fields with this info:
Display Name:

Name of the App.

Namespace:

namespace is the same as the ##display-name just "withoutspaces".

App Domains:

localhost

Contact Email:

Your email for contact.

Privacy Policy:

If you have one, please add it, in case you do not have a page of these, just write on your website.

Terms of Service URL:

If you have one, please add it. in case you do not have a page of these, just write on your Website.

App Icon: Upload your App Icon.


Add Website
Click on add platform and select Website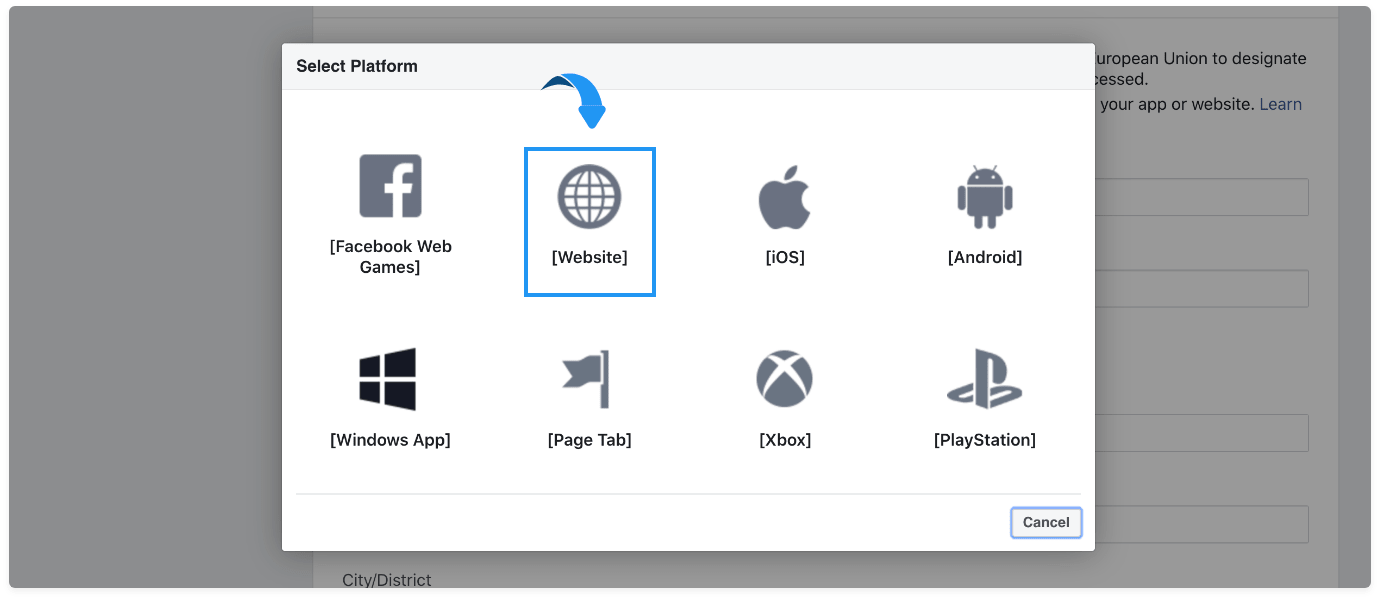 On the Site, URL paste your domain "https://www.ordering.co/" and click on the "Save Changes" button.
Add iOS
Select iOS Platform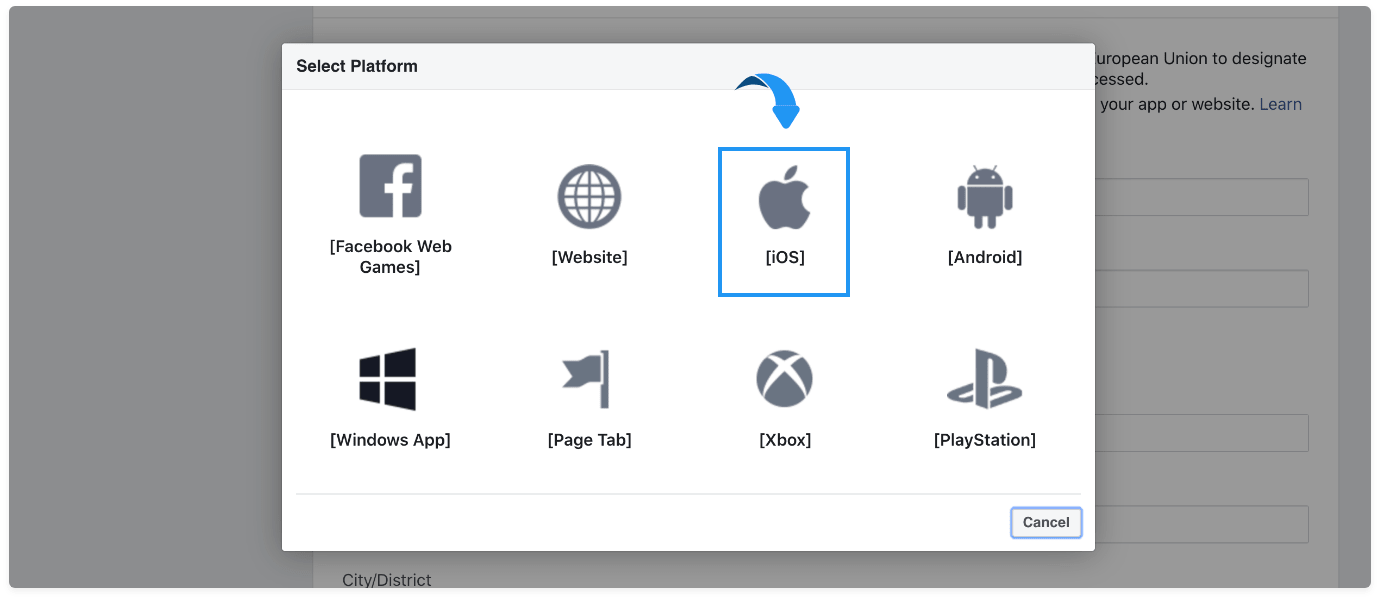 Put the Package Bundle that is in your App, for example: "com.ordering.ordering".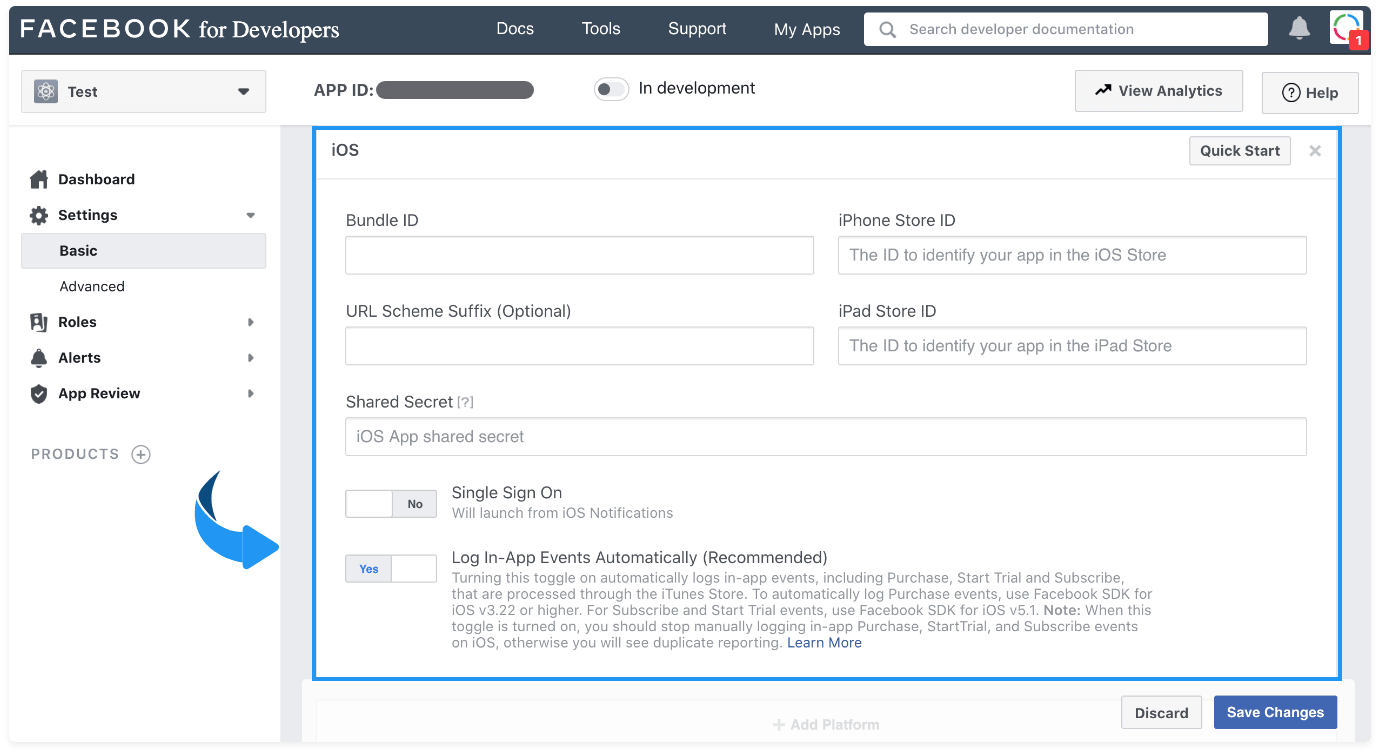 Add Android
Do the same if another platform is needed like Android.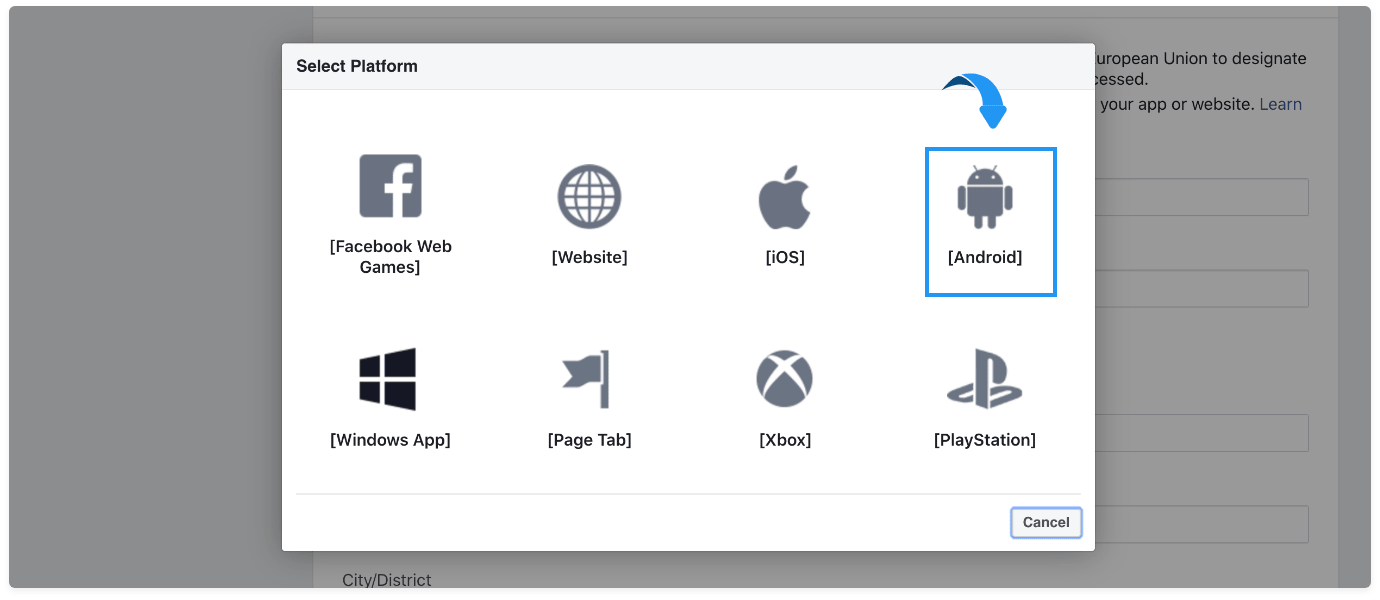 Use these texts in order to get it working.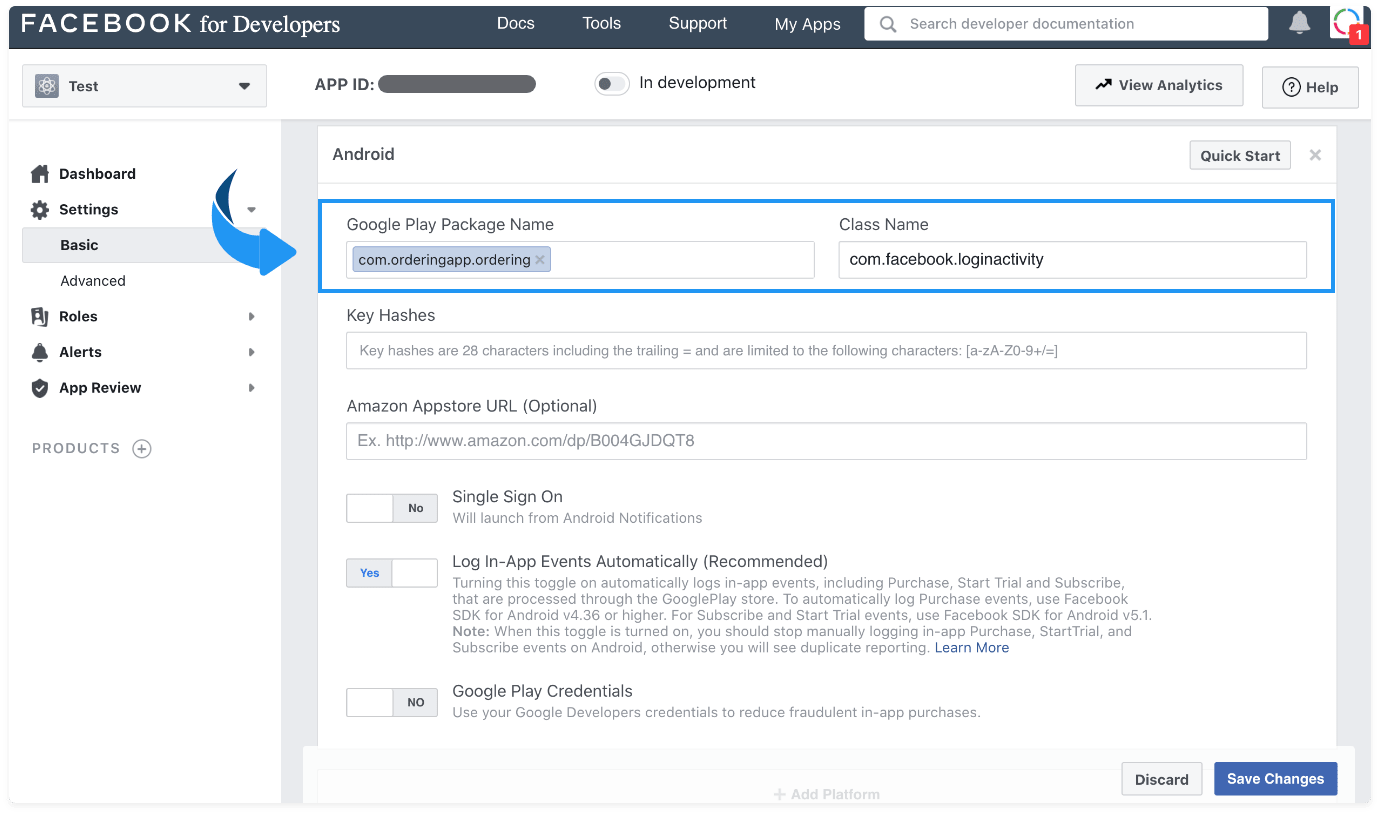 Google Play Package Name:

On your builder, you can see this package on your OrderingApp. example: com.orderingapp.ordering

Class Name: com.facebook.loginactivity
Add hashes in Android "Key Hashes"
P06REiEMufbvSOrQ76OaICh4L50=
TwtQwSSbQbitJBrpdPuZwp56eaA=
KNhJ+X6VJU/FVwXiAV3fs1KGC7c=
wwaw8MEJvRZJY0UDqH1D5hg97ns=
nQDiV5o9r4uzoIMvN/xzEDi1QF4=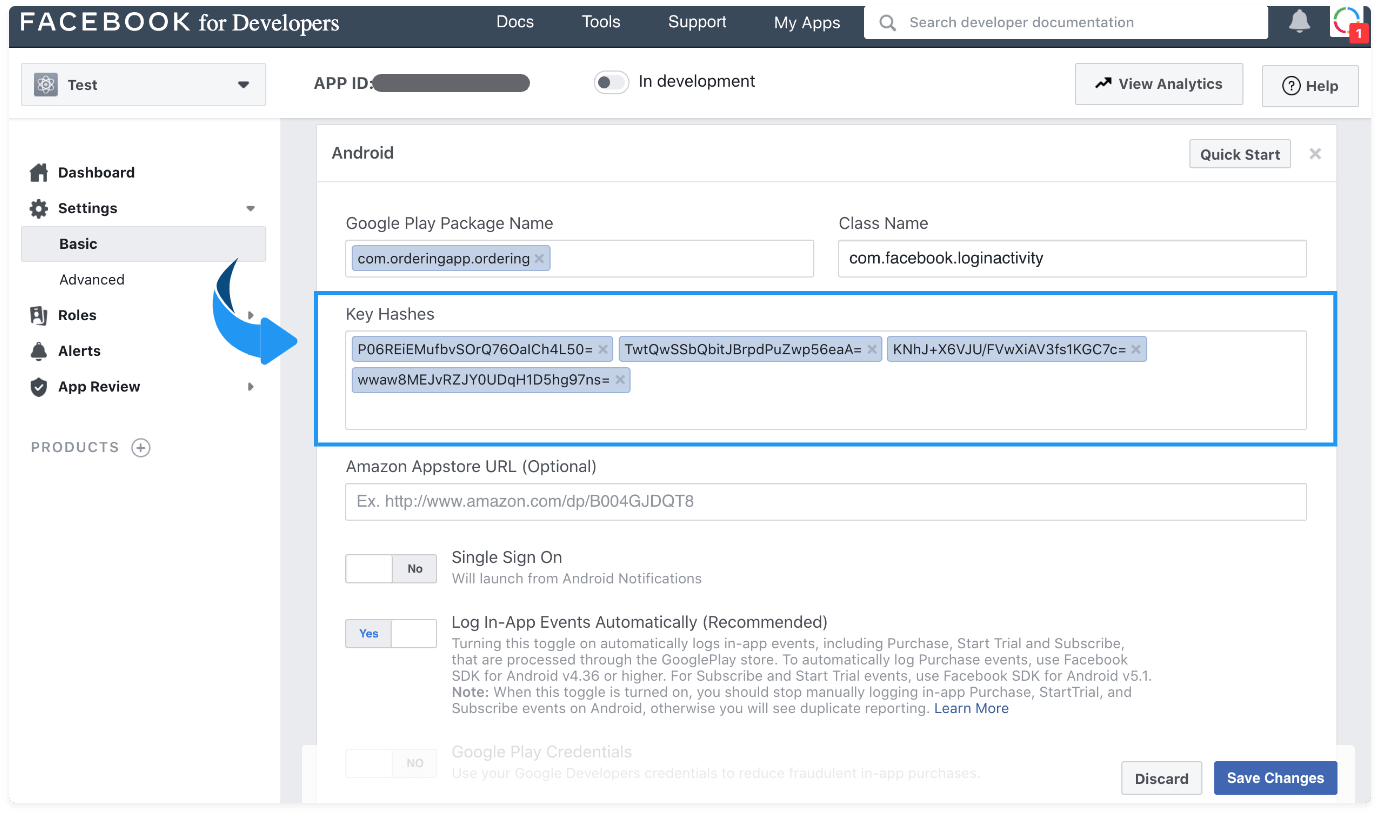 After completing the fields save the changes, a popup message will appear, just click on "Use the name of this package" button to continue with the configuration.

Add Facebook Login Product
Click on the "+" button and then select "Login with Facebook".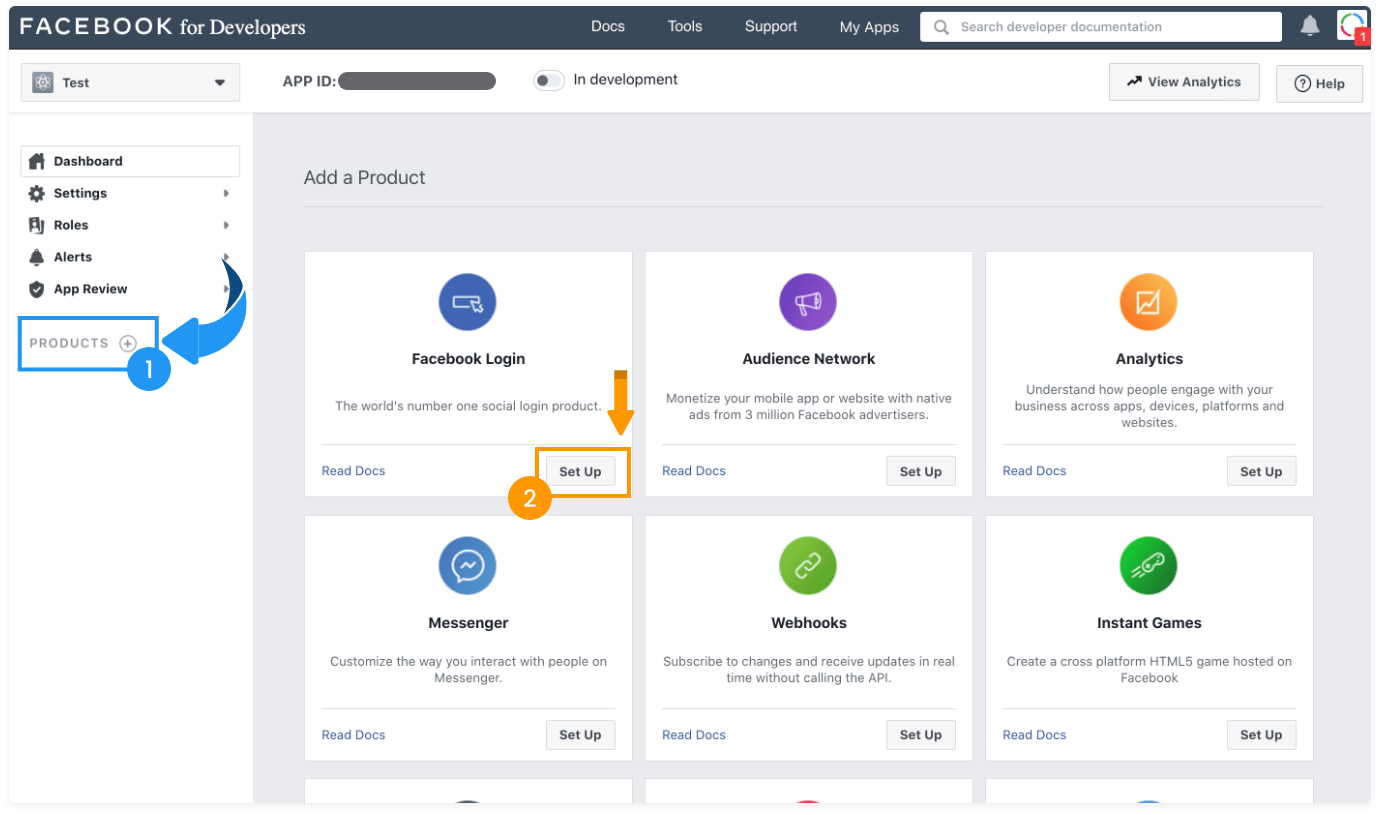 You need to write the Valid OAuth redirect URIs and check if you have the same options that the screenshot is shown below.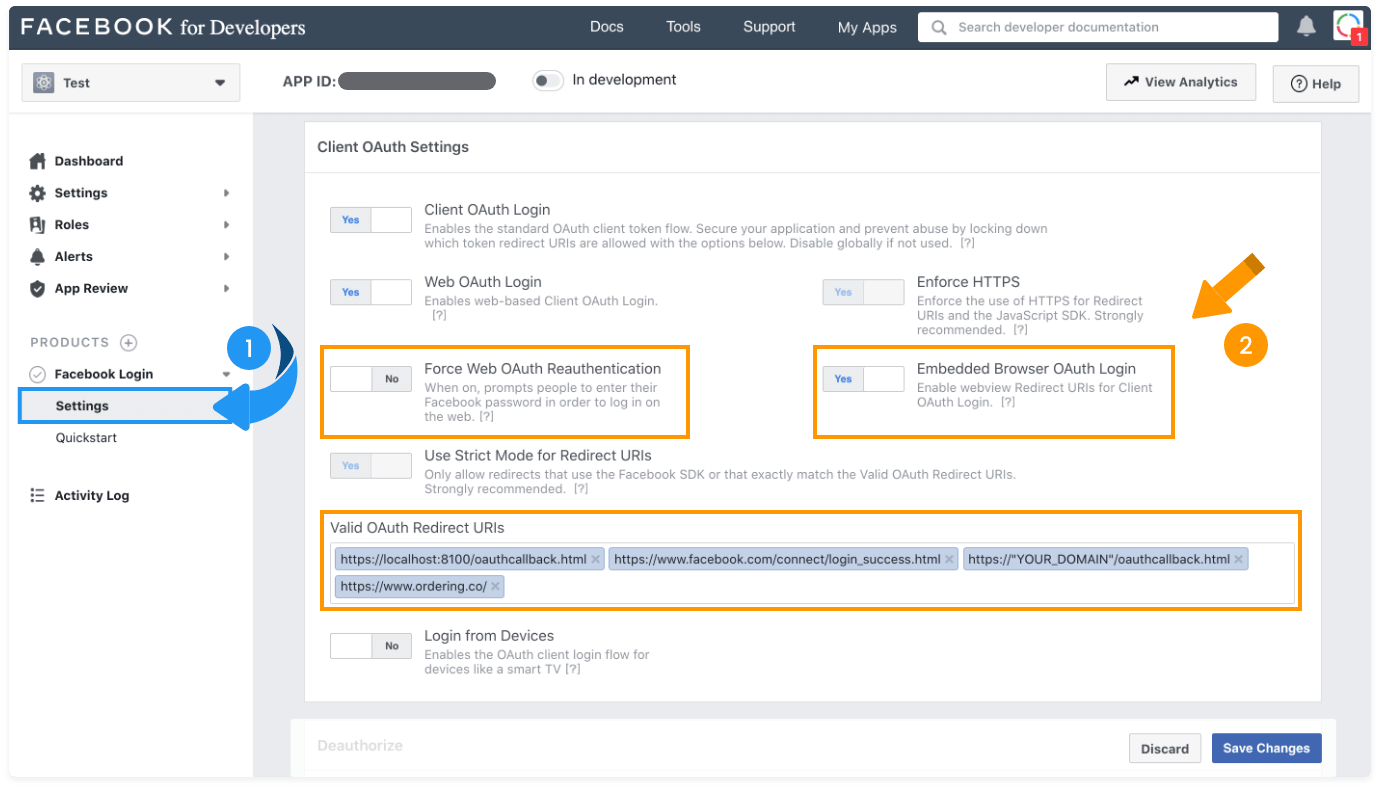 Here you have to use these texts below to Valid OAuth redirect URIs
Review Application
To complete the configuration about Facebook login only need to publish your app.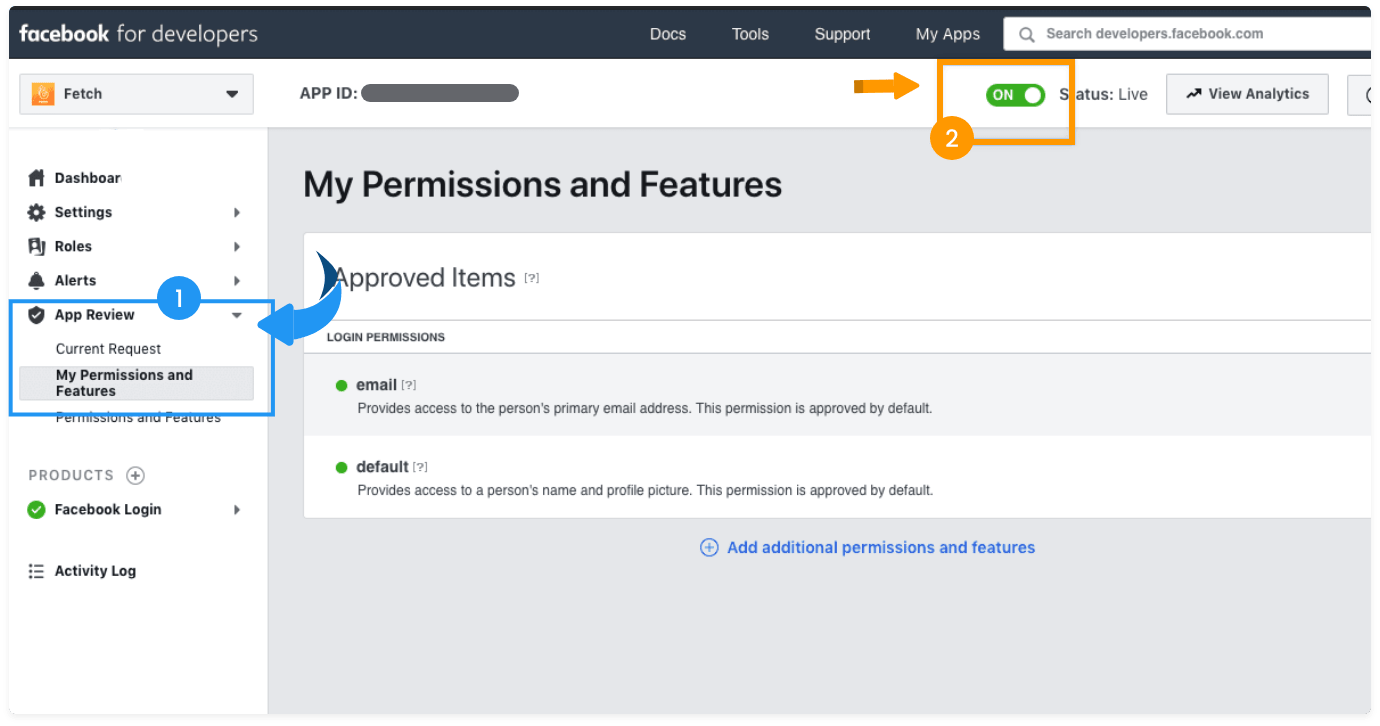 Finally, go to your builder (my.ordering.co) and write your App ID to finish your settings. After this, you need to rebuild your website/OrderingApp to see this extension working.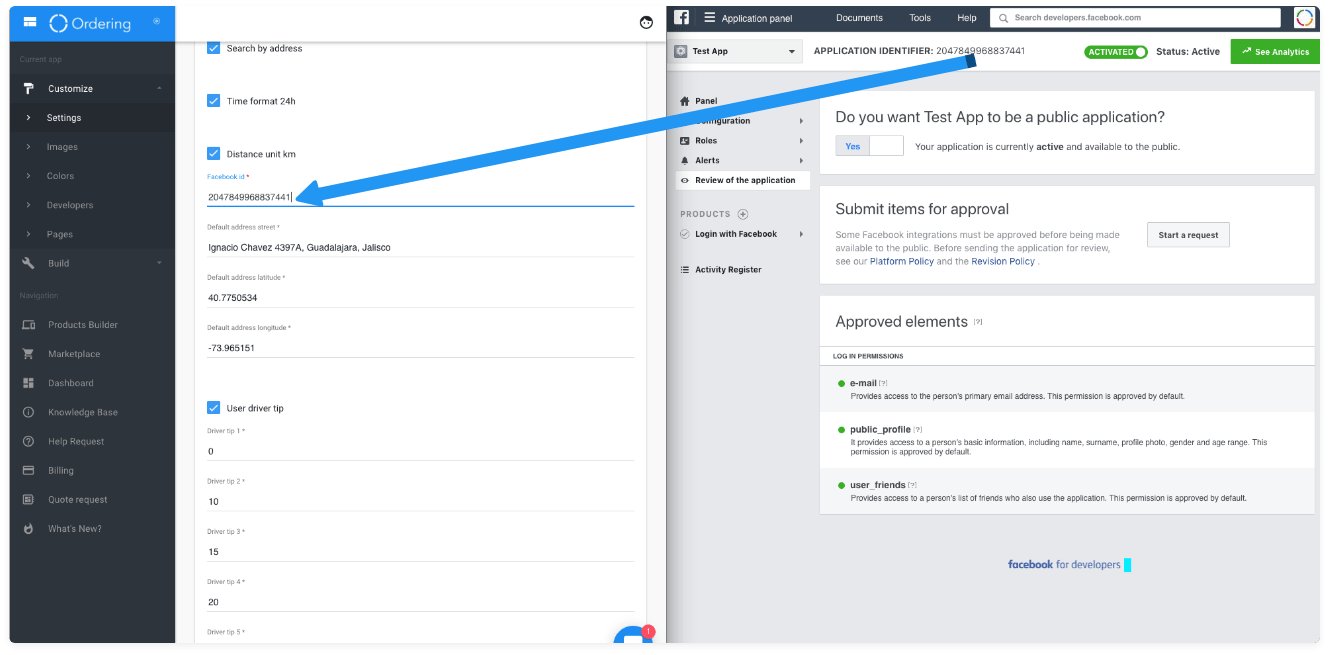 Also, be sure that the Facebook_app_name is the same as the one in the Facebook Developer Account.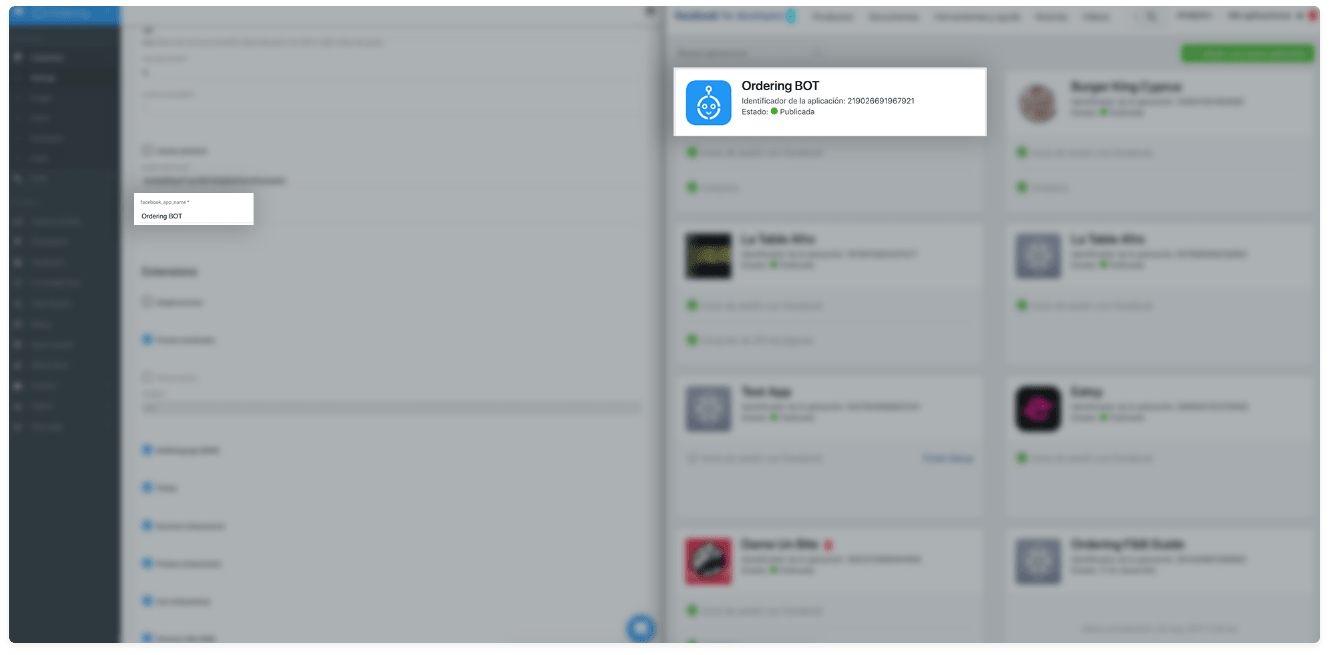 In the settings, the screen selects the "Facebook Setting" to complete the configuration to your Facebook login.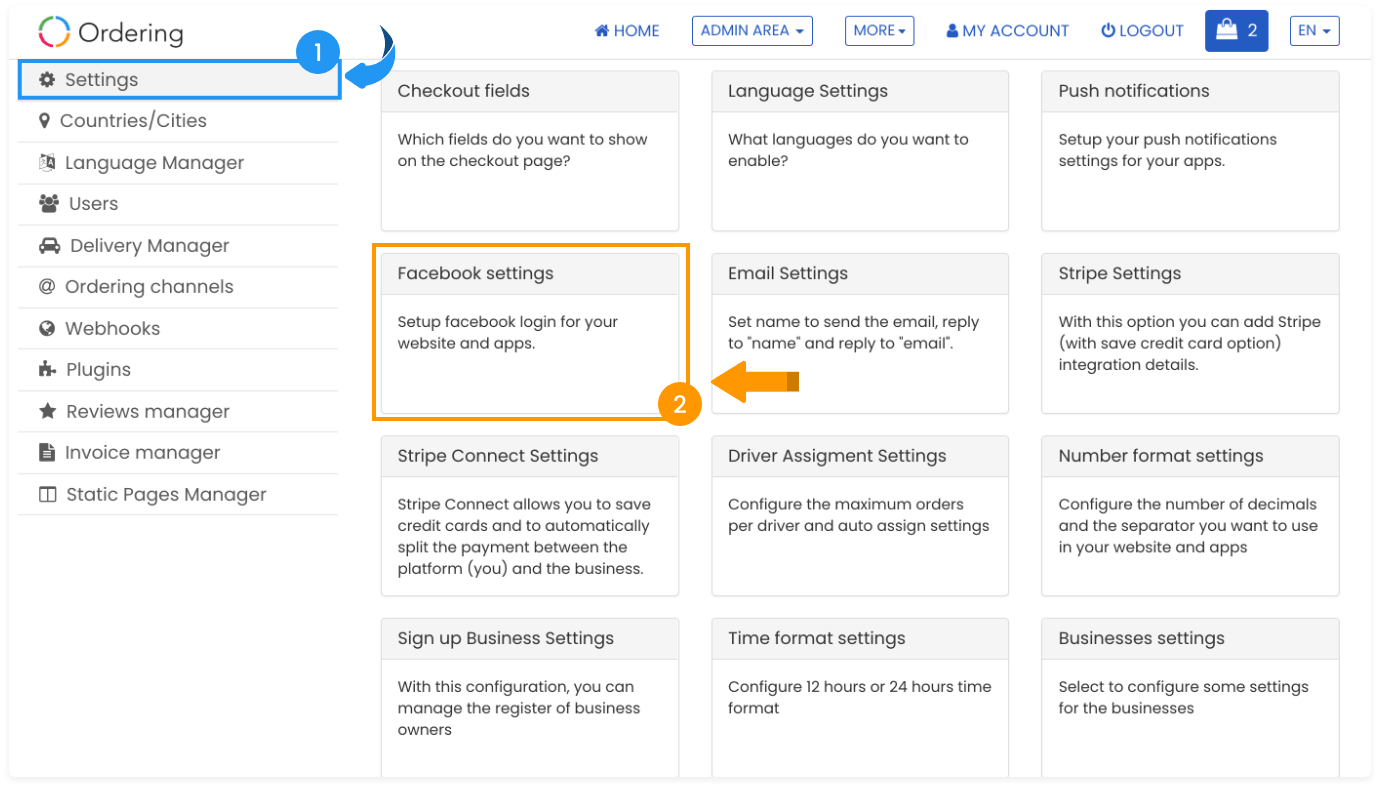 To complete the configuration to Facebook login only need to paste the App ID & App Secret on the pop up that shows and save the changes.

NOTE 🚨
If you get a message saying "Invalid key hash. The key hash "xxxxxxxxxxxxxxxx=" does not match any sorted key hashes. Configure your app key hashes at (link)" you'll have to go in your key hashes inside the Android configuration and add it just like you added the last 5 key hashes.
Hello there, have you've heard about Ordering University? If you haven't let me explain to you.
Ordering University is a place where one dedicated Ordering Expert will show you how things work, give you tips, advice, support, and answers to all of the questions you have regarding starting in the E-commerce World, of course, with Ordering.
In the following video you'll learn about the Delivery App · Everything there is to know.
Grab a cup of coffee, tea, or a beer, and check out the video below.
If you want to see how the agent response to all of the questions the Ordering Community is having in the Live chat of Youtube, and how those get answered, Click Here →
Join the Live Stream Conferences from Monday to Friday at 15:00 hrs NY, USA timezone
and bring all of your questions, we are happy to answer them.

If you need anything else from your Ordering Team, just let us know 👍
Have a Happy Ordering