Name
The Name of your business is the text that shows in the tab of your browser
Temporary domain
This is the domain that Ordering uses by default in case you do not have a domain of your own. Do not change.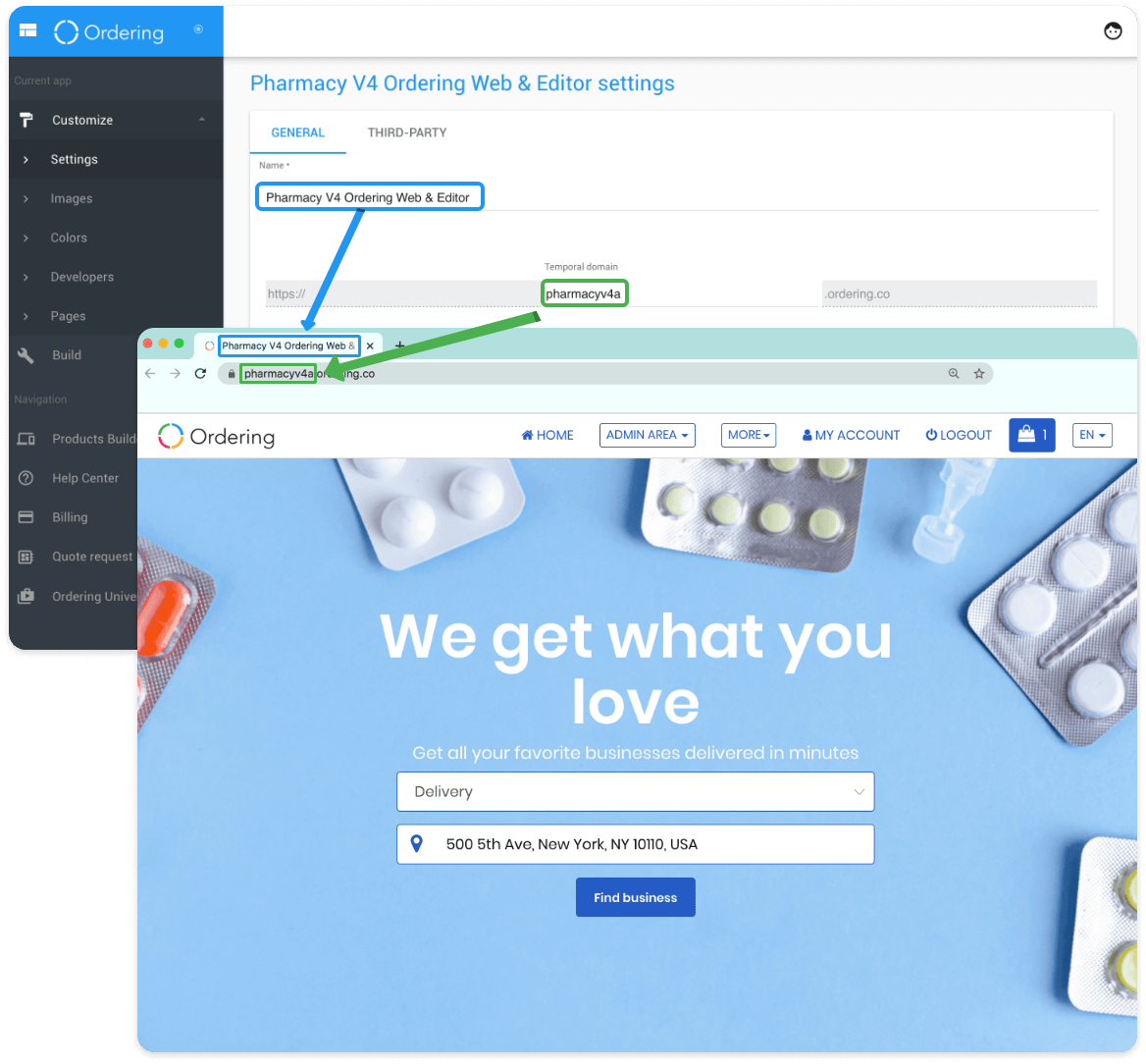 Custom Domain
Version
You need to keep this version up to date, learn how to do it in this article, Click Here
Theme and Theme Style
Here you will select the main aspect of your website and some variations, we will launch more themes soon.
Description
You can write a description of your store/product, this description will appear when the customer enters your site.
Constants
Facebook ID & Facebook App Name
Default Address Street, Latitude, and Longitude
Driver Tips
Enable for the option to tip to show at check-out page on your customer's devices. You can also edit the amount of tip your customer gives.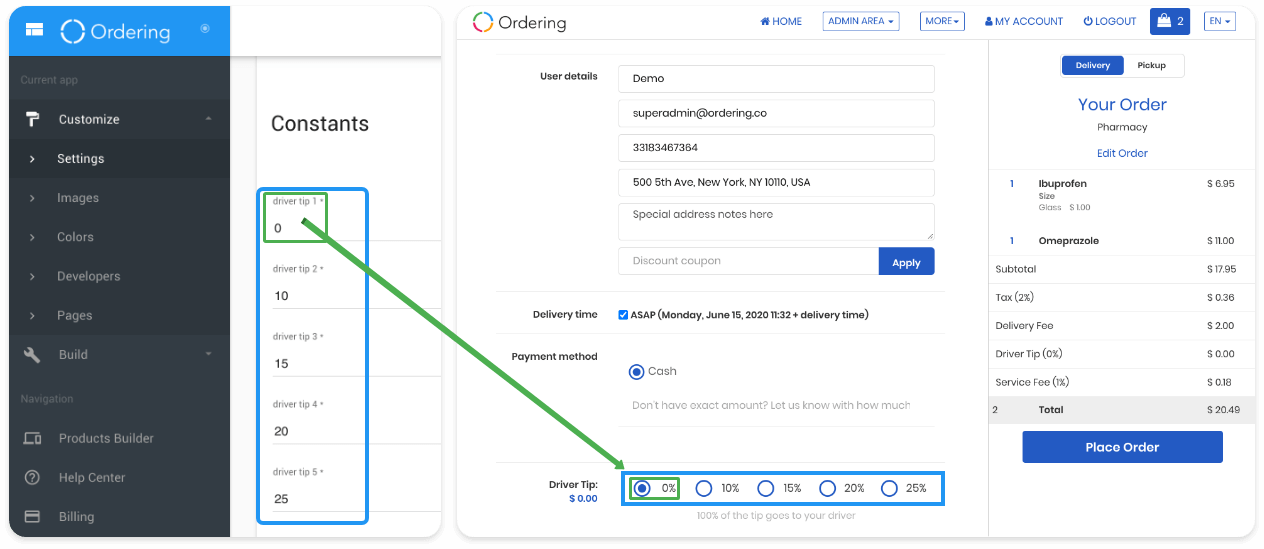 Welcome Fullscreen
Description: Alternate the image in the home-screen from fullscreen to a fixed size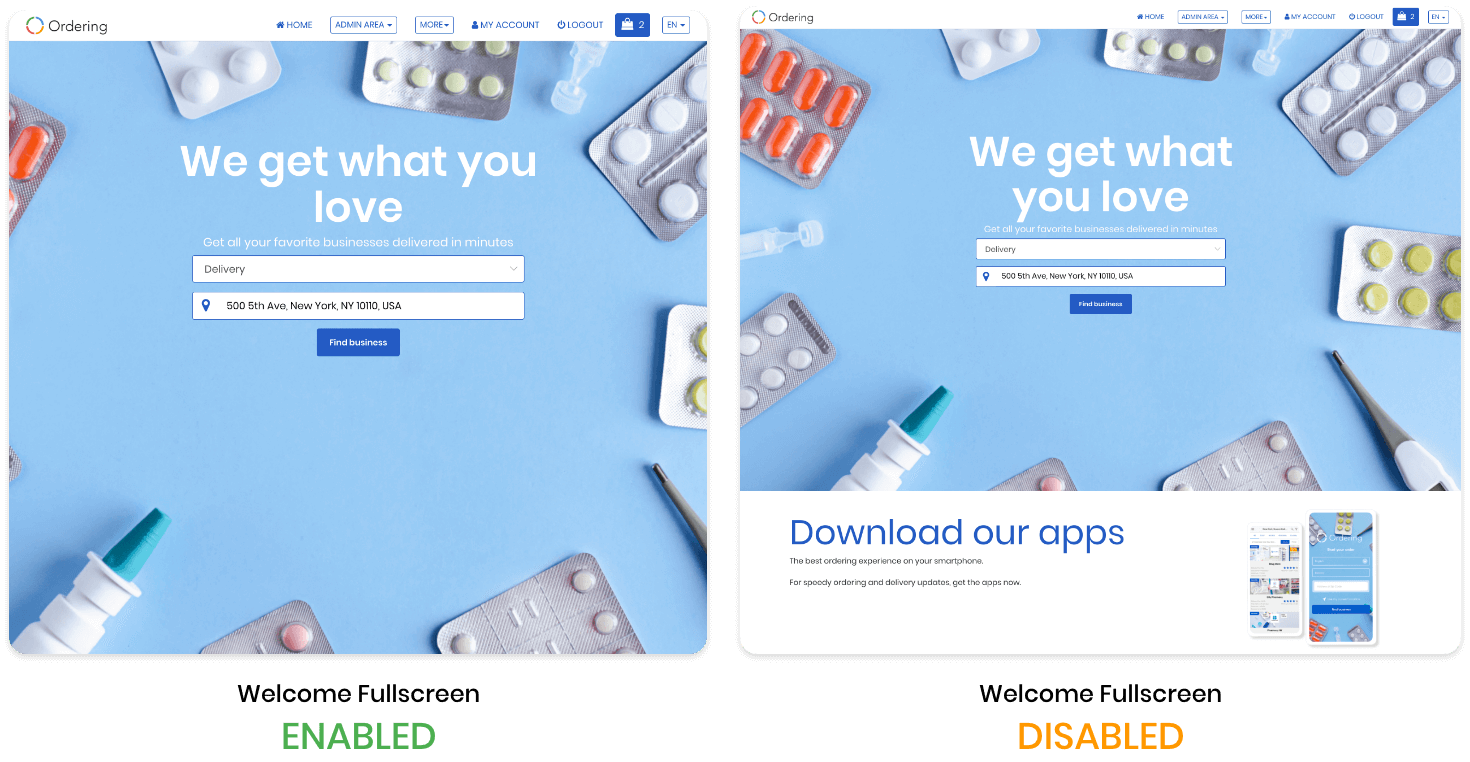 Decimal Separator & Length
Description: Write the separator of your currency, most commonly used are a dot (.) or a comma (,)
Description: Write the number of decimals to show in the prices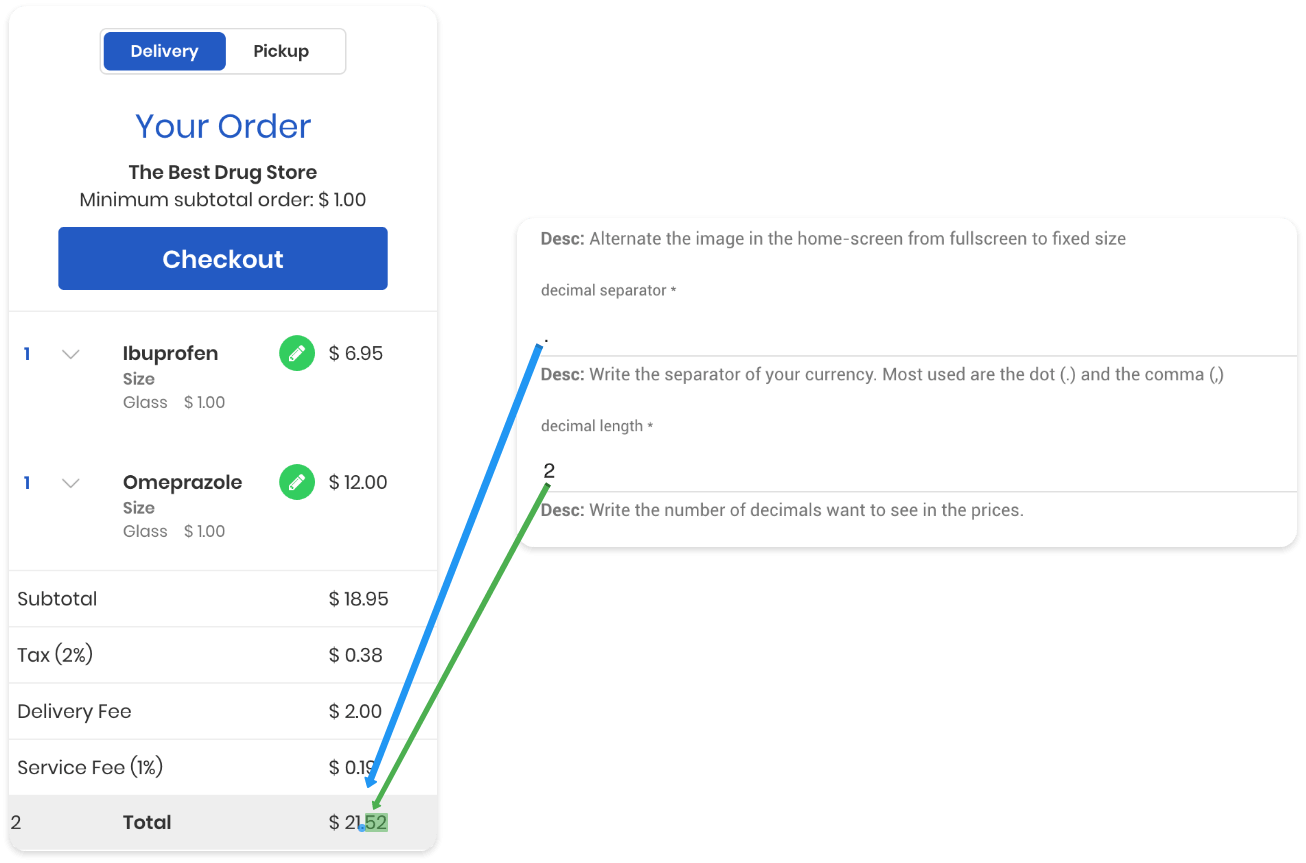 Payment Gateways Currency
Description: Write the 3 letters code to reflect the currency sign of your country.
Read more: Click Here to Learn More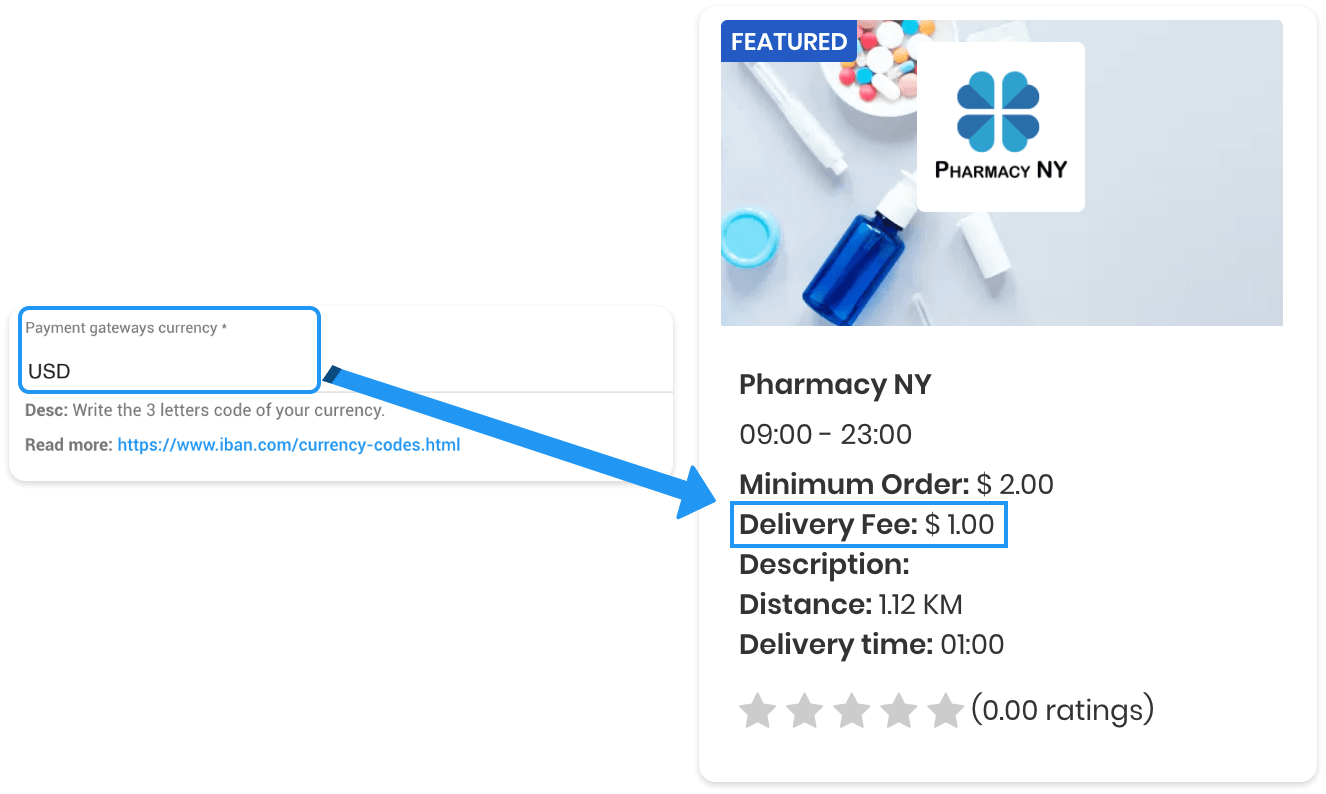 Currency Position
Description: Shows the currency on the left or right of the prices. Use "left" or "right" without the quotes.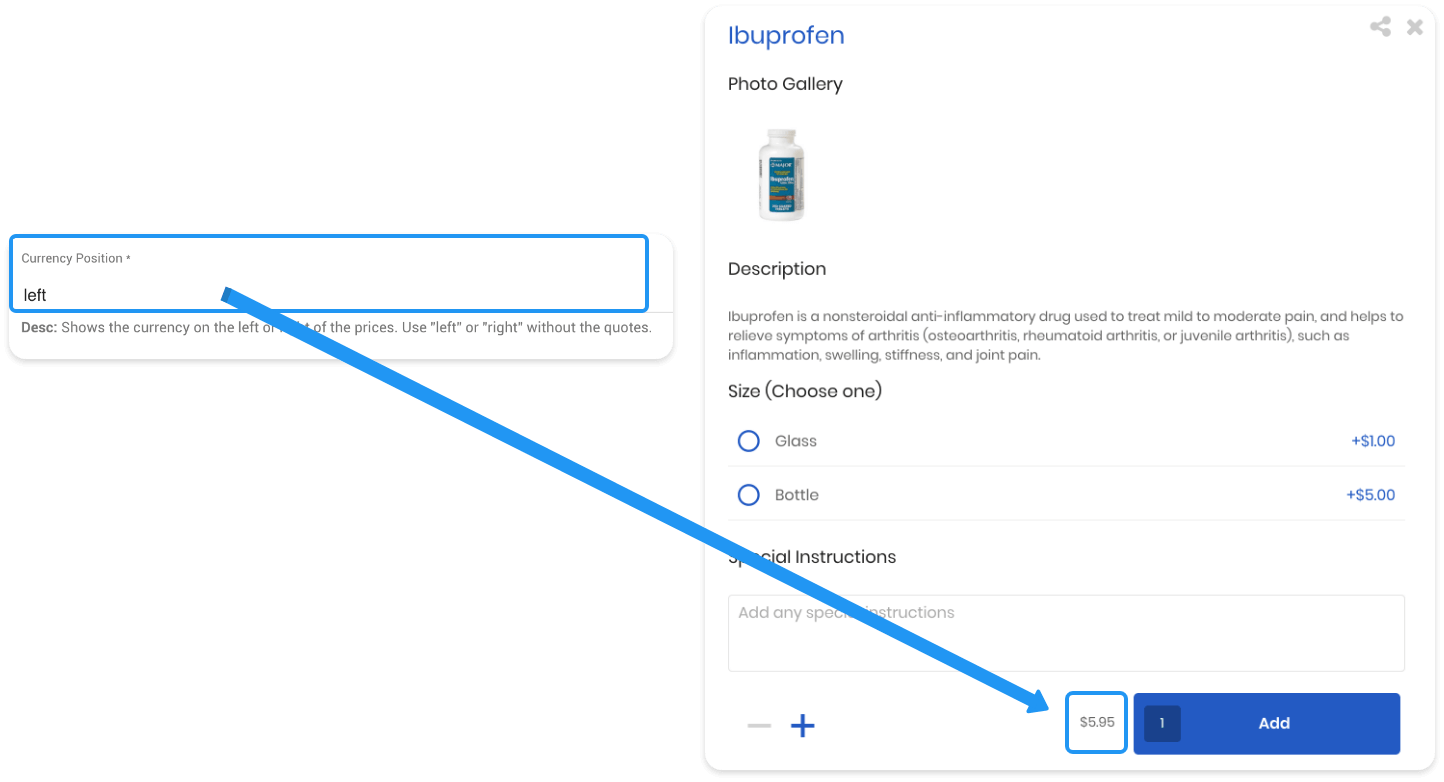 Allow your customers to post-date as many days ahead as you specify.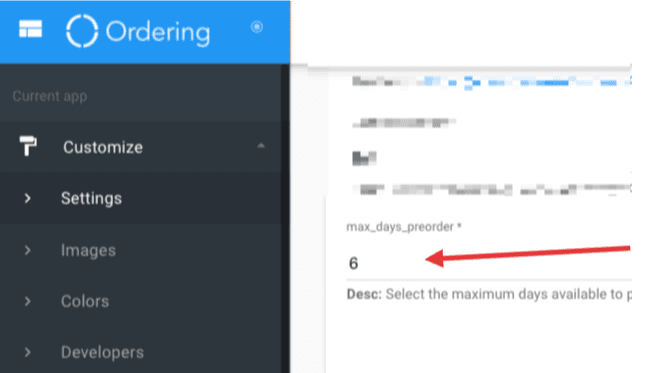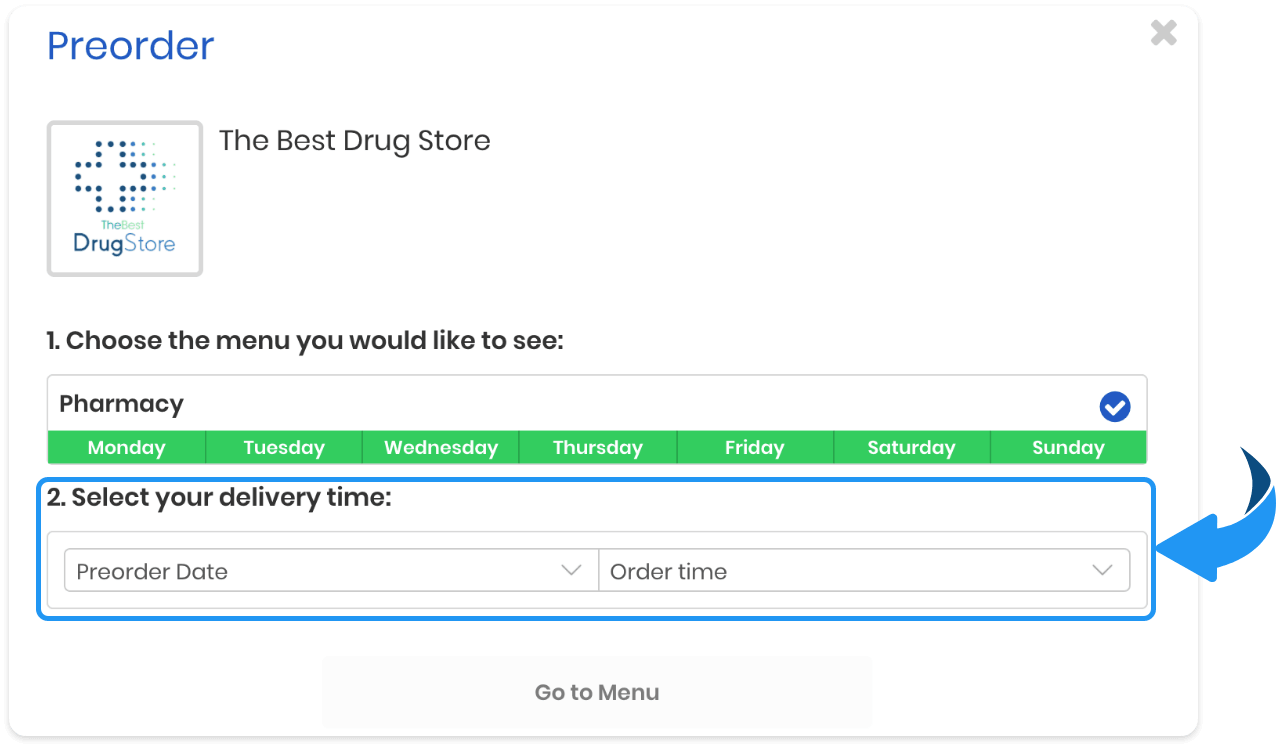 Search By Address
Description: Customers will be prompted to a screen showing the closets businesses after inputting their address on the search bar. When disabled, Customers will have the option to pick a city previously selected by admin.

Time Format 24h
Description: Alternate between 24 hours format to AM/PM
Description: Enable to use of kilometers as distance unit, disable to use miles.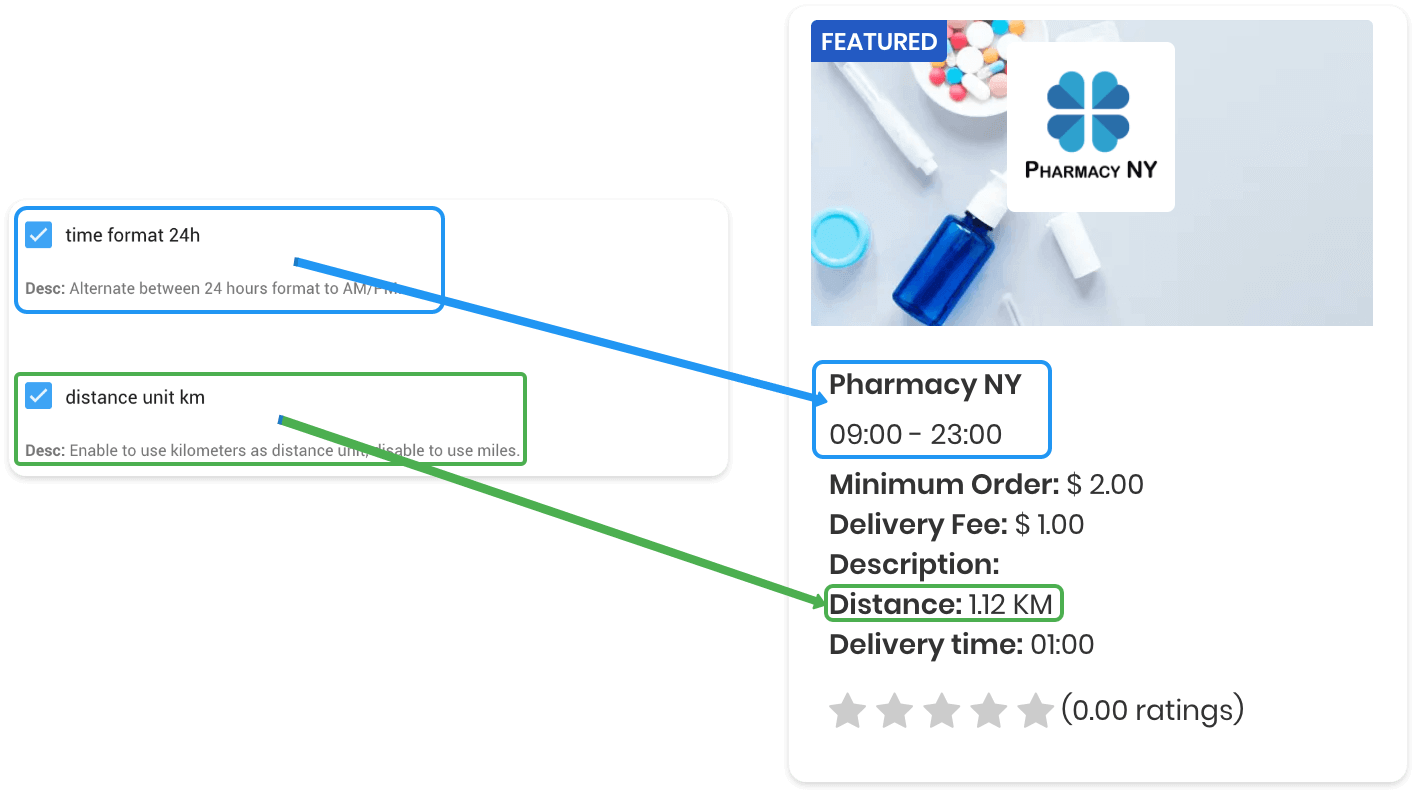 Google Maps API Key
Description: Allow for Google maps to assist in the logistics of delivery, Create an account with Google maps, follow the steps in the document below.
Facebook app name
Allow customers to log into their profiles with Facebook credentials.
Click Here and Learn How to Configure Facebook Login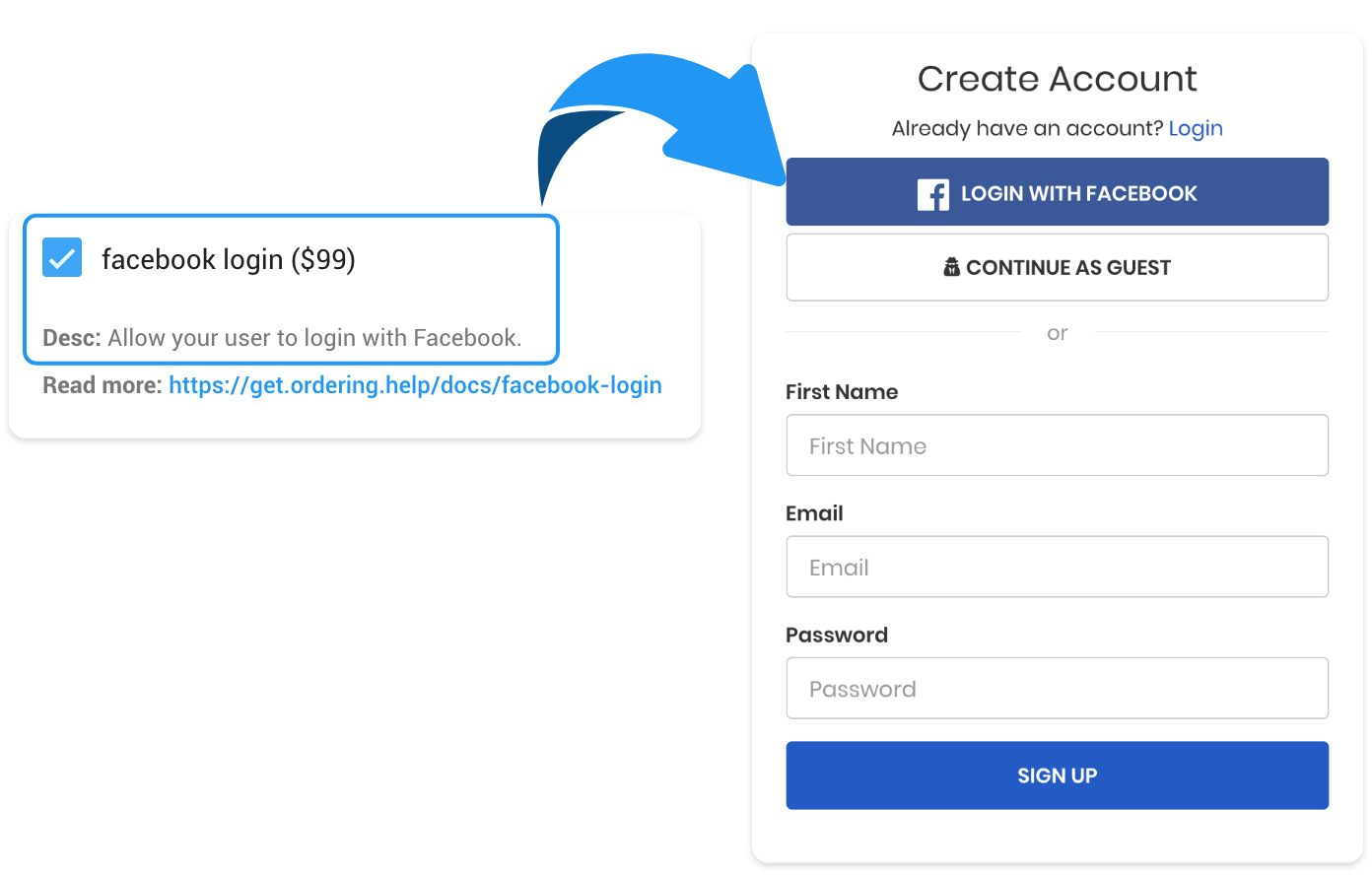 Country_autocomplete
Description: Write the 2-letters code of your country, for example: "US, MX"
Closest_business
This feature automatically will open the closest business to your actual location
Default Order Type
Write the first option you would like your customer to see for their orders.
Saved Places
Enable if you want to activate the multiple address extension.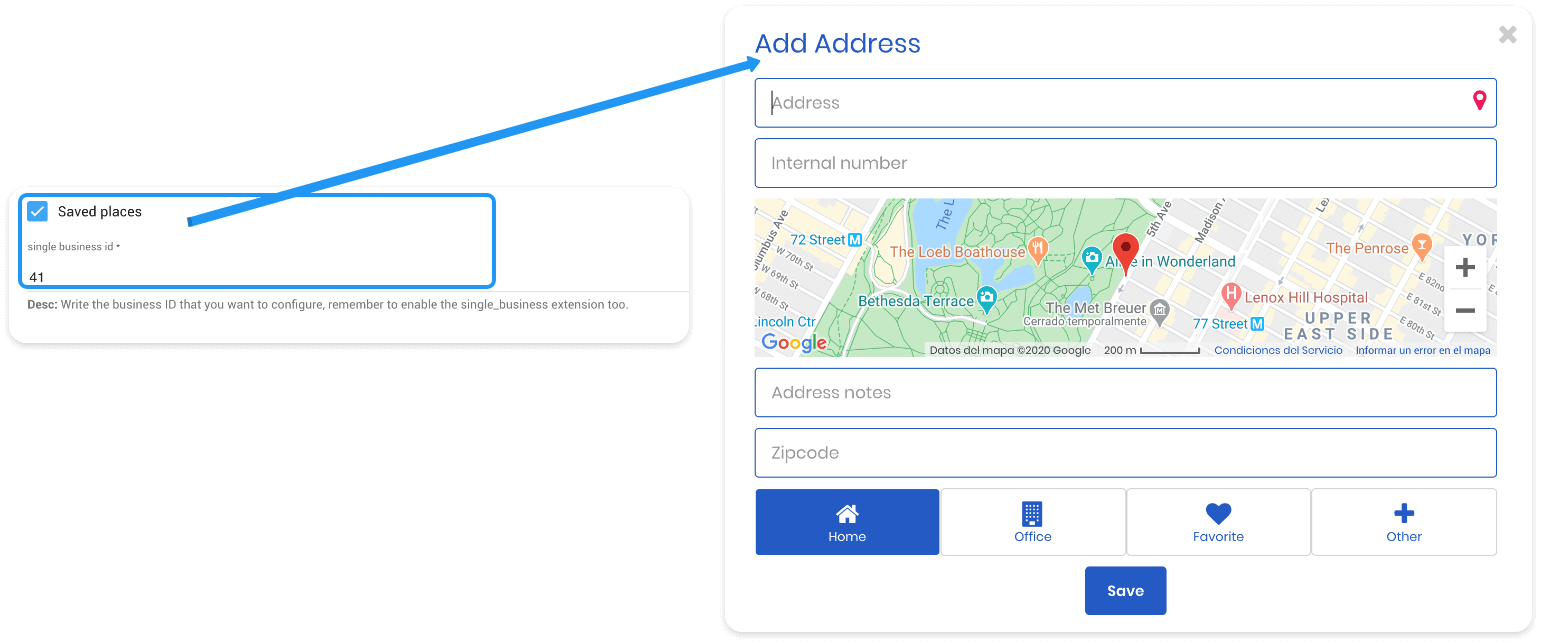 Upselling
Enable if you want to add upselling products before the customer completes the order.

Extensions
Google Analytics ID
Track and report your performance with the assistance of Google. Just add your tracking ID from Google Analytics.
Learn How to configure Google Analytics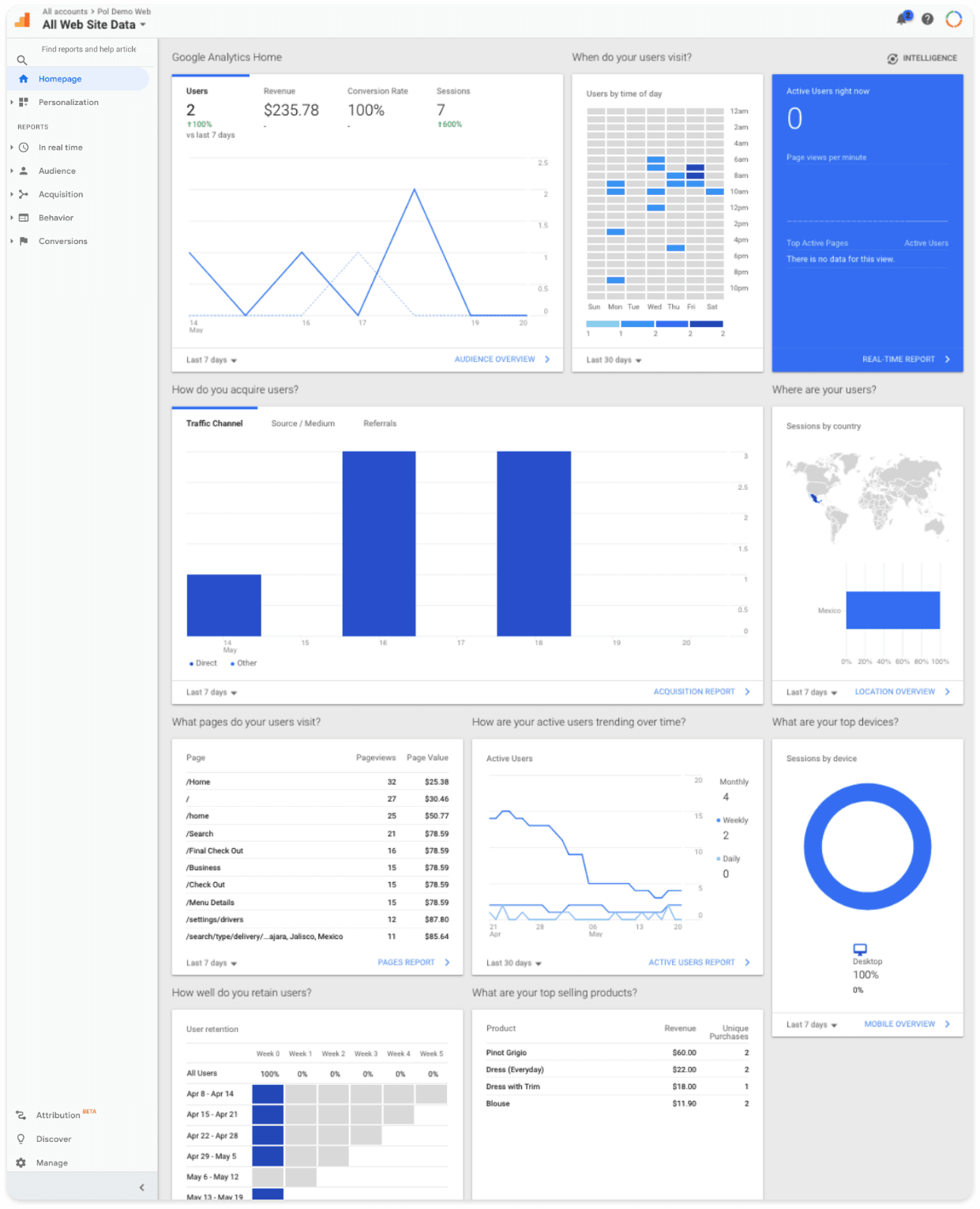 Enable to allow both options, disable to allow just the option selected in the default order type.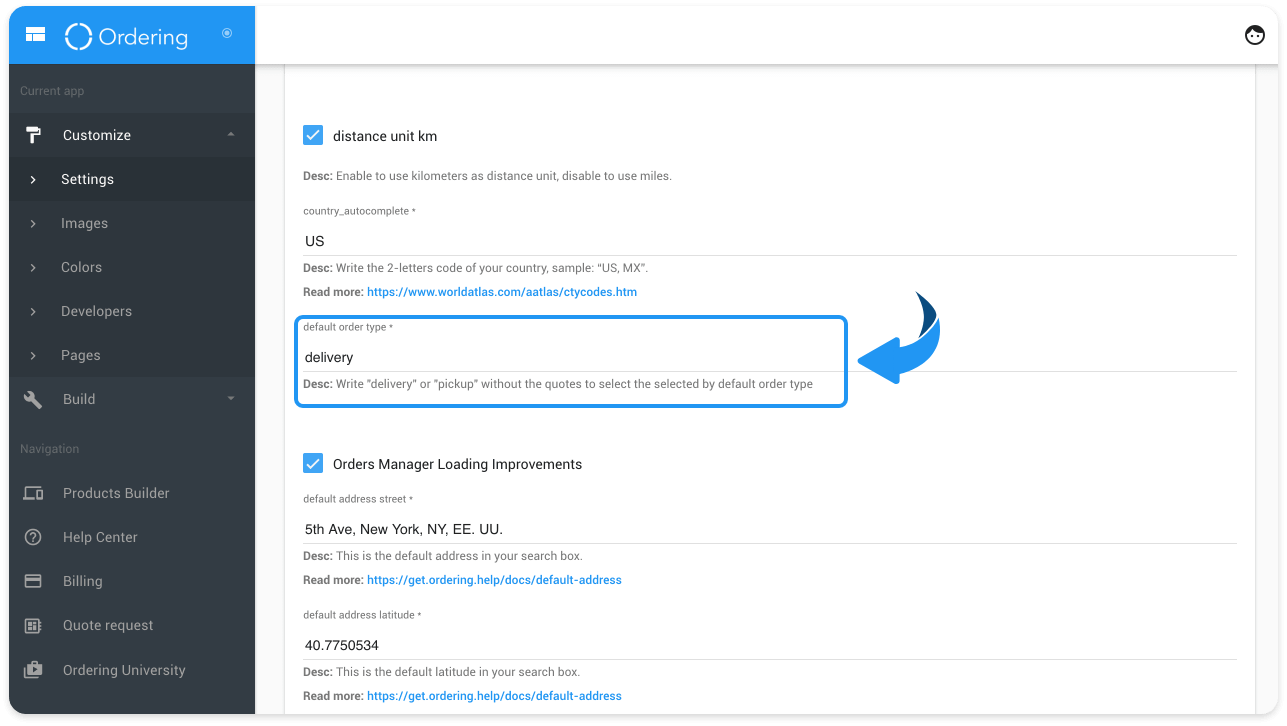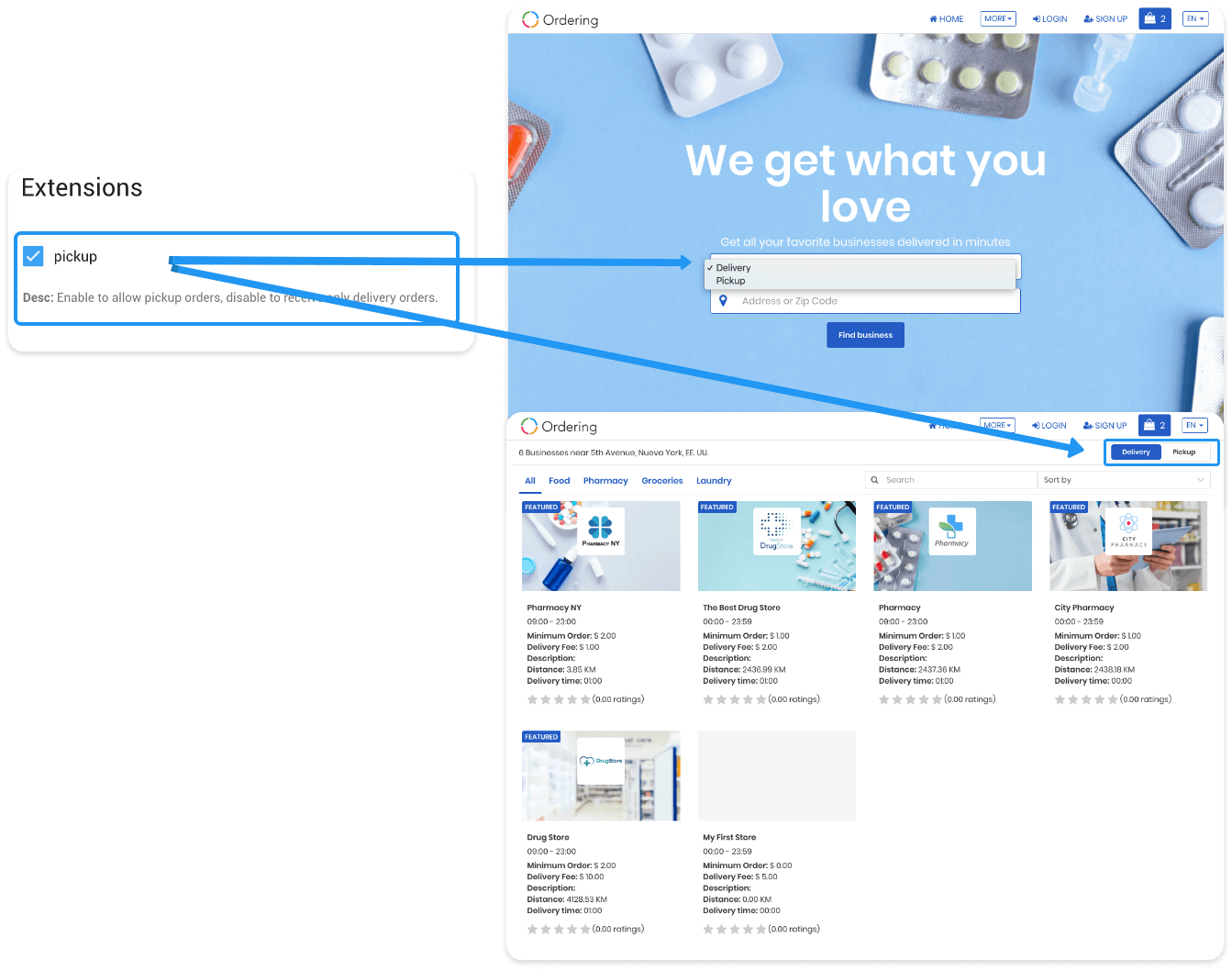 Editor Channel Inline
Description: Allow your businesses to integrate their Ordering page based on your platform on any website
Editor Channel Modal Widget
Description: Integrate your website anywhere. It allows multi-business Ordering Website as a widget
Click here and learn how to configure Editor Channel Inline
PayPal Express_payment
Enable PayPal express payment gateway
Click here and learn how to configure PayPal-Express
Stripedirect payment
This extension allows for each business to have its own Stripe account, it receives card payments from guests or logged in user.
Click Learn and learn how to configure Stripe-Direct
Stripedirect_payment_giropay
Stripdirect_payment_bancontact
Stripedirect_payment_ideal
Stripedirect_payment_alipay
Facebook login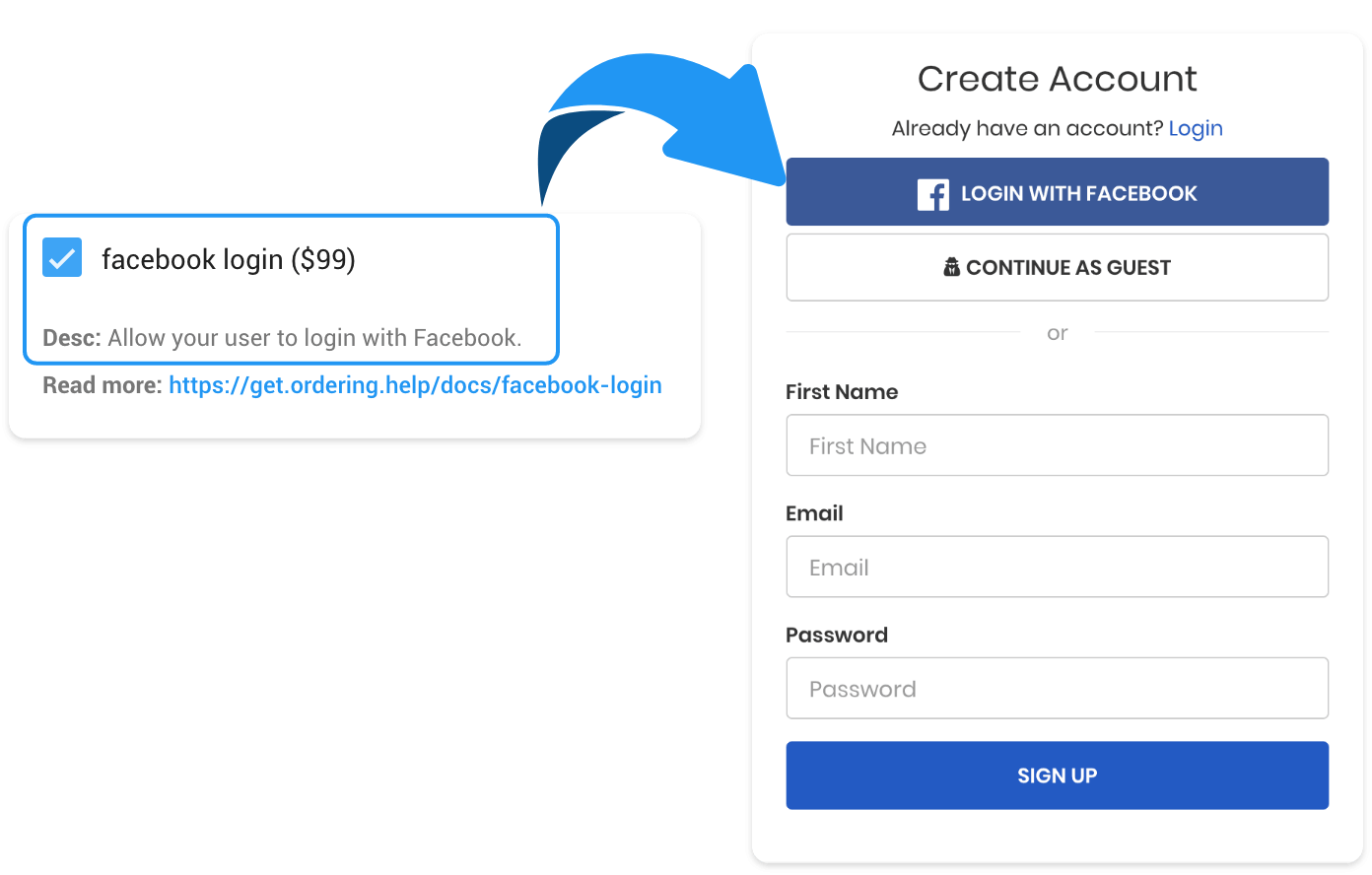 Allow customers to post-date orders for as many days as you allow in advance.

Multilanguage
Enable to use your app or website in multiple languages.

Advanced Map Search
Allow your customers to set the location directly on the map.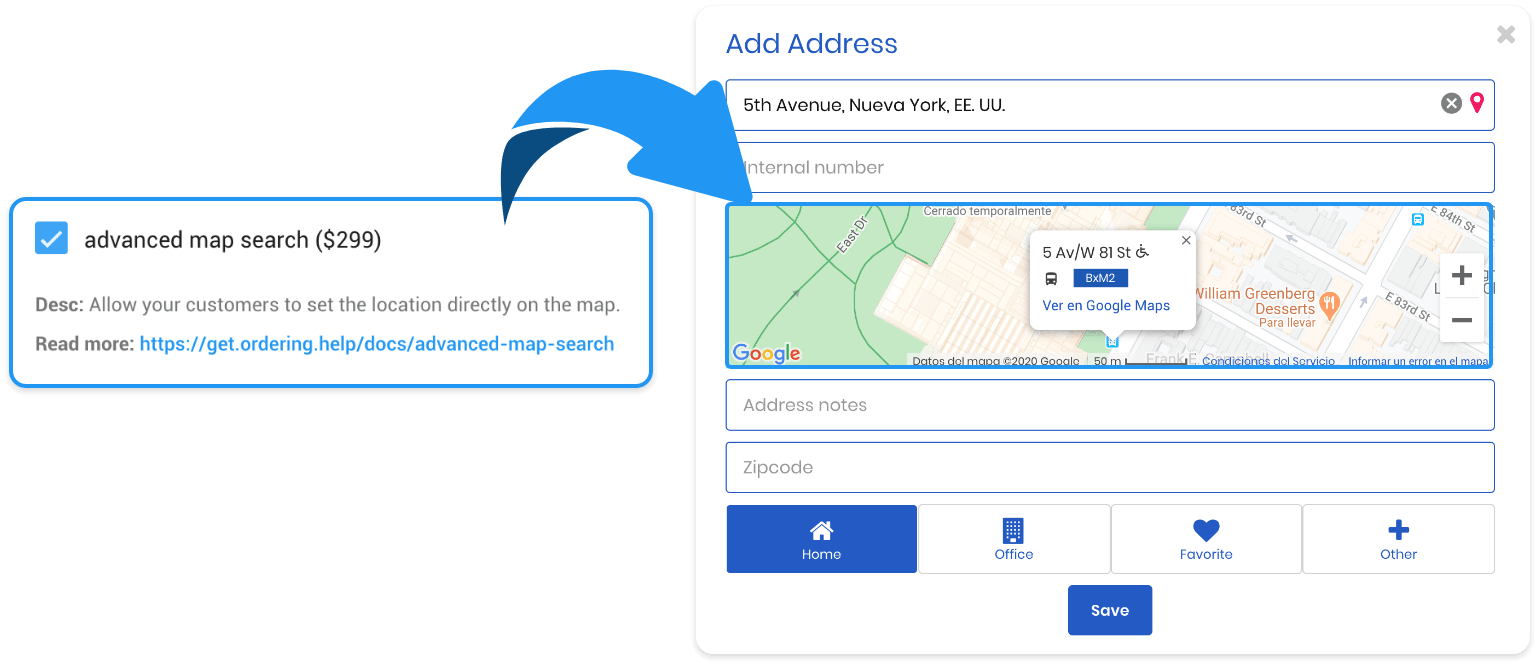 Featured Products
Allow items with the most potential gross to stand out from the other items in your store.

Featured Business
Businesses can stand out from others as per manager requests.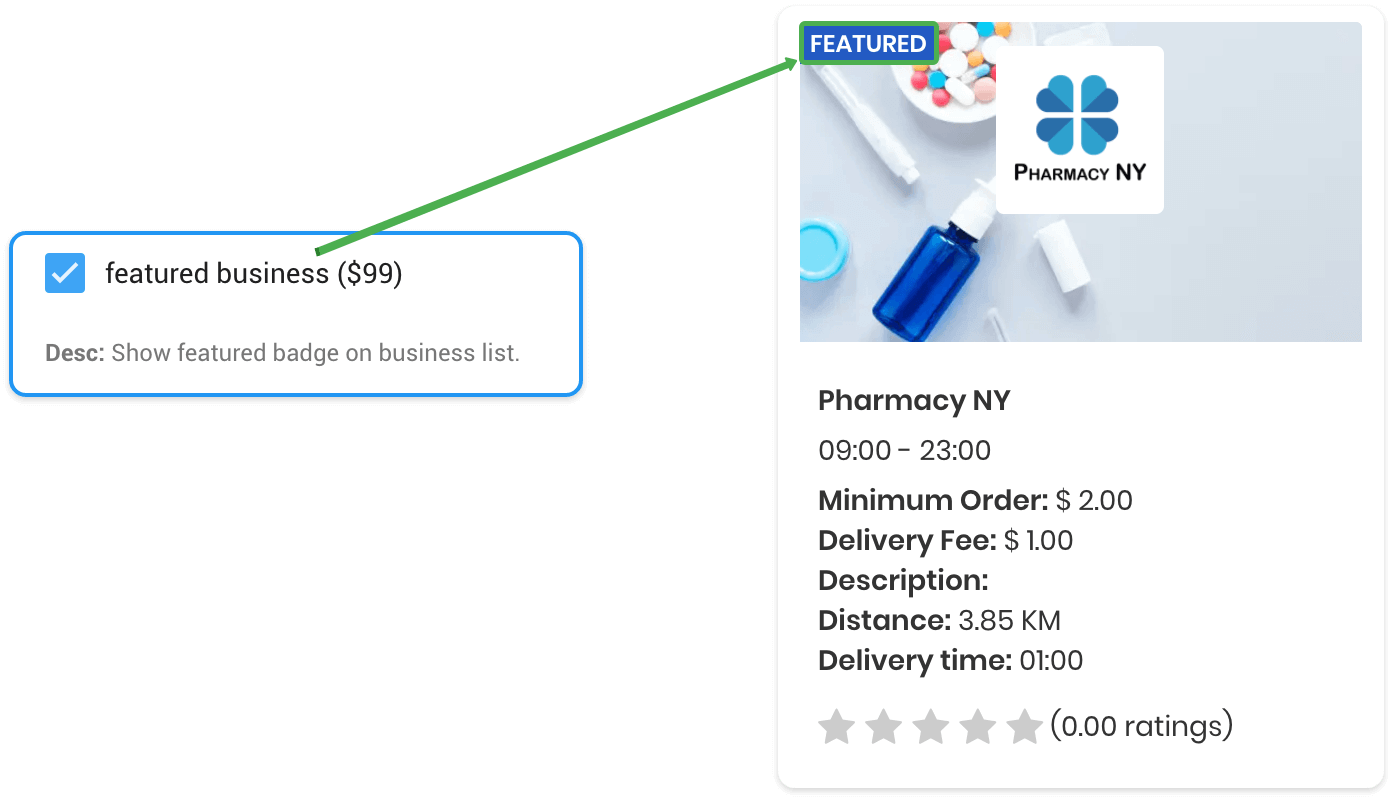 Discount Offer
Allow automatic discounts for your products.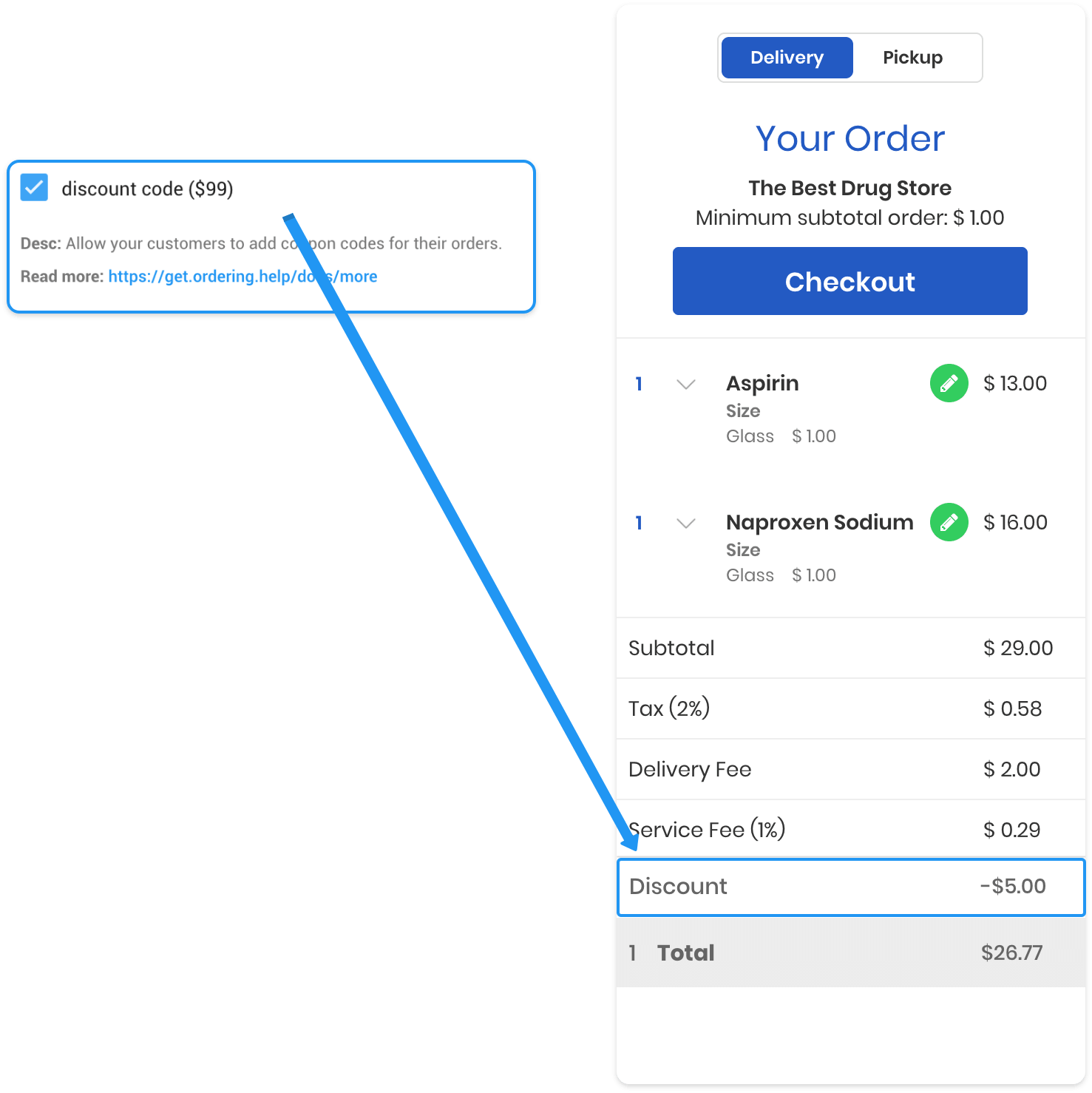 Allow your customers to add a coupon code for their orders.
Guest Login
Allow your customers to make an order without creating an account.
Allow tracking customers order when it´s on the route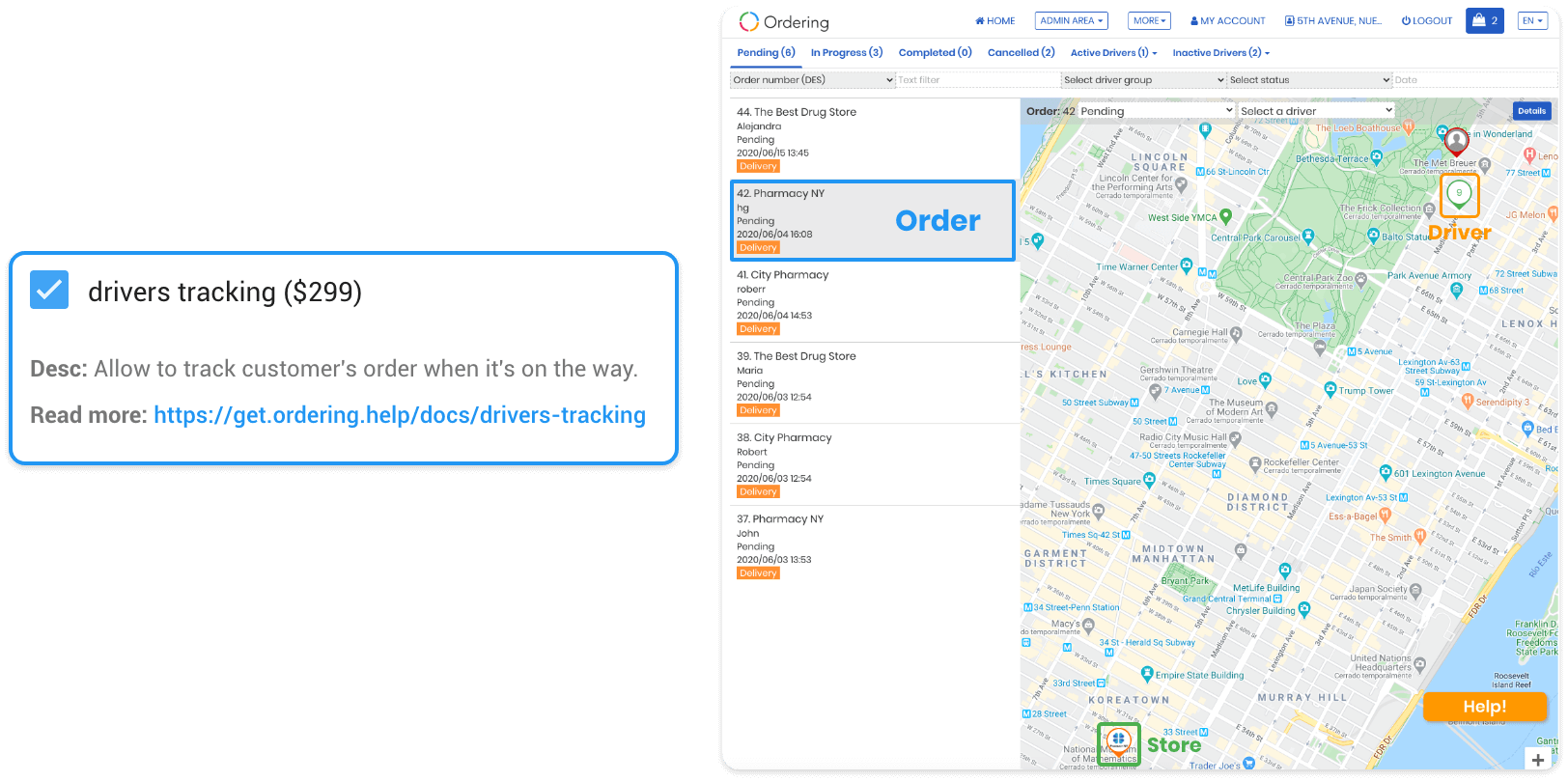 Inventory
Keep track of the quantity of each of your products and as you sell an item it will automatically keep your stock updated.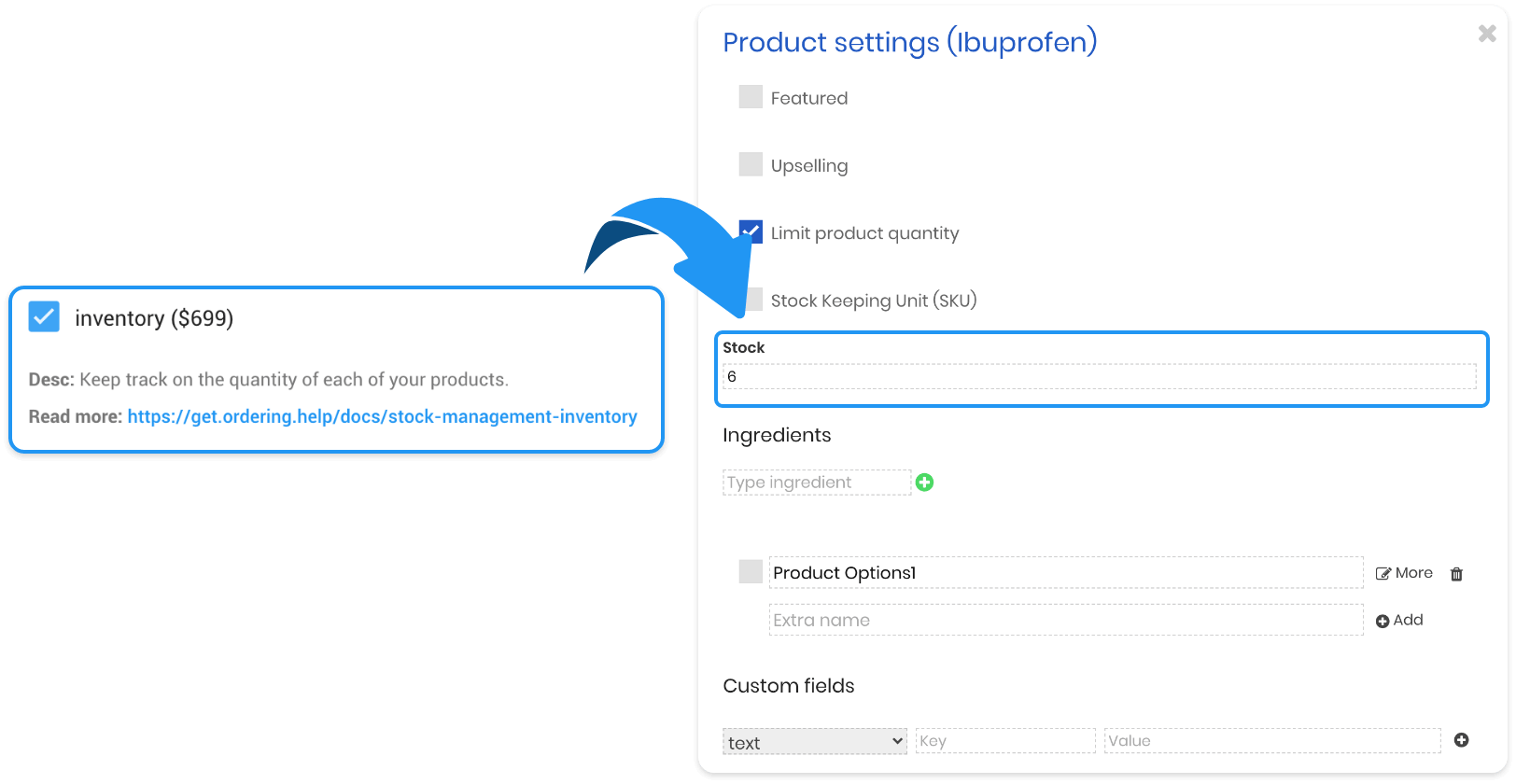 Allow your order tickets to be printed directly to the kitchen for an efficient service.
Click here and learn how to configure GPRS Printers
Description: Create orders searching with the phone number and autocomplete the address to validate it.
Under one section keep track of your orders i.e. all stores, one store, by the customer, by status, edit status, etc.

Description: Verify the modified address on the checkout page.
Auto-Assign
Limit Business
Description: This prohibits adding or eliminating business, upgrade your plan to unlock this extension.
Description: Enable this extension to allow your business owners to create/remove business.
When enabled, your store will be your main page.
All categories
Allow to show all the products or to arrange by category.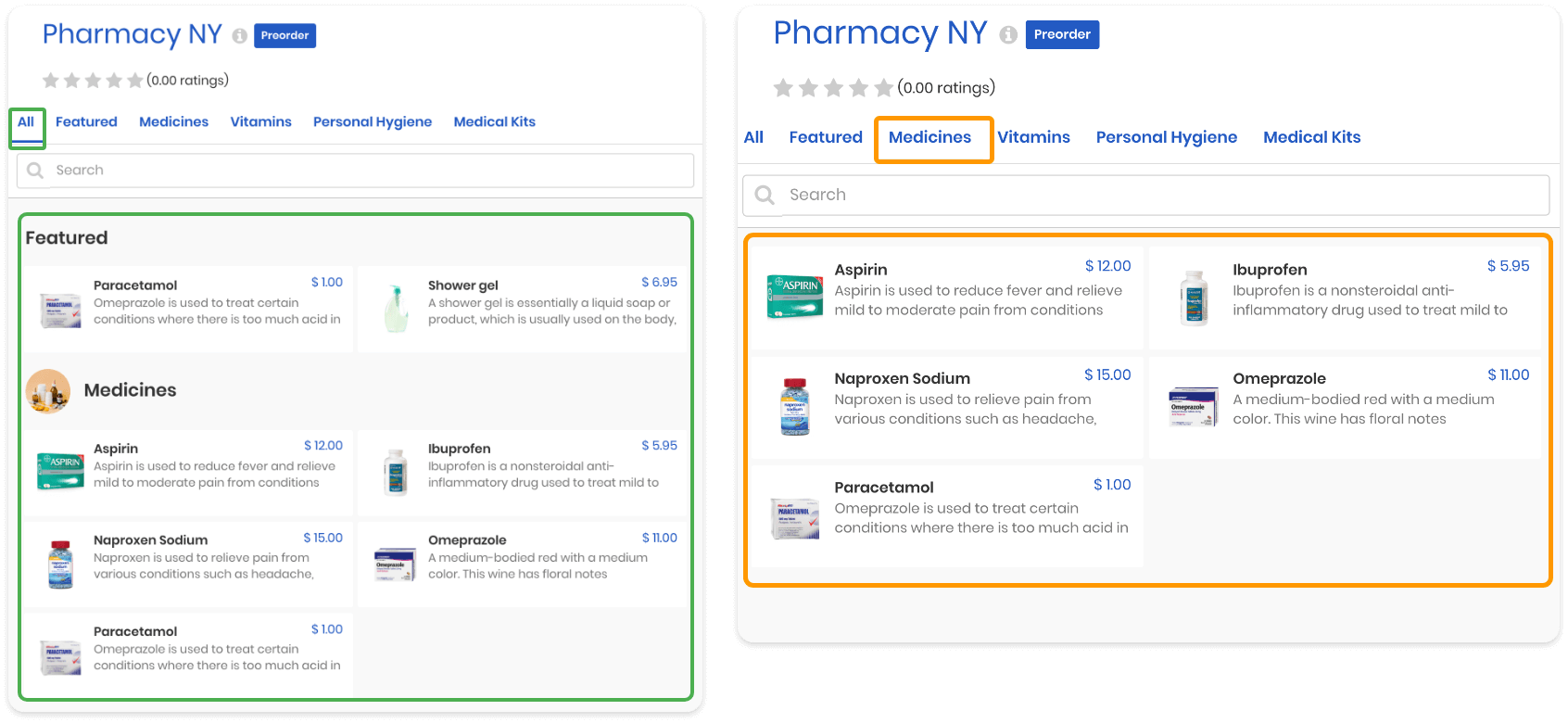 Notification Types
From this section, you can select how you want to receive your notifications on every new order. "Toast or "Popup". If you wanna know more, please visit our support article on the next link:
https://support.ordering.co/hc/en-us/articles/360058734612-Notifications