Your images say a lot about your website, you can upload and change your own images to make your website and apps look amazing and professional. You can find this section in your builder right after the Settings Section. We explain you how to do this in the next tutorial.
"Be sure to be in your Ordering Builder before starting this tutorial."
1. Establish a higher version of the Ordering product you are about to edit.

2. Click in the "UPDATE" button at the bottom.
3. After that go to "Images" and change the image you want. (Be sure the image is the size required and on .png)
4. Click the "UPDATE" button at the bottom.
5. Then go to "Build" and click on "Build website or app". Click the "UPDATE WEBSITE STAGING" button at the bottom.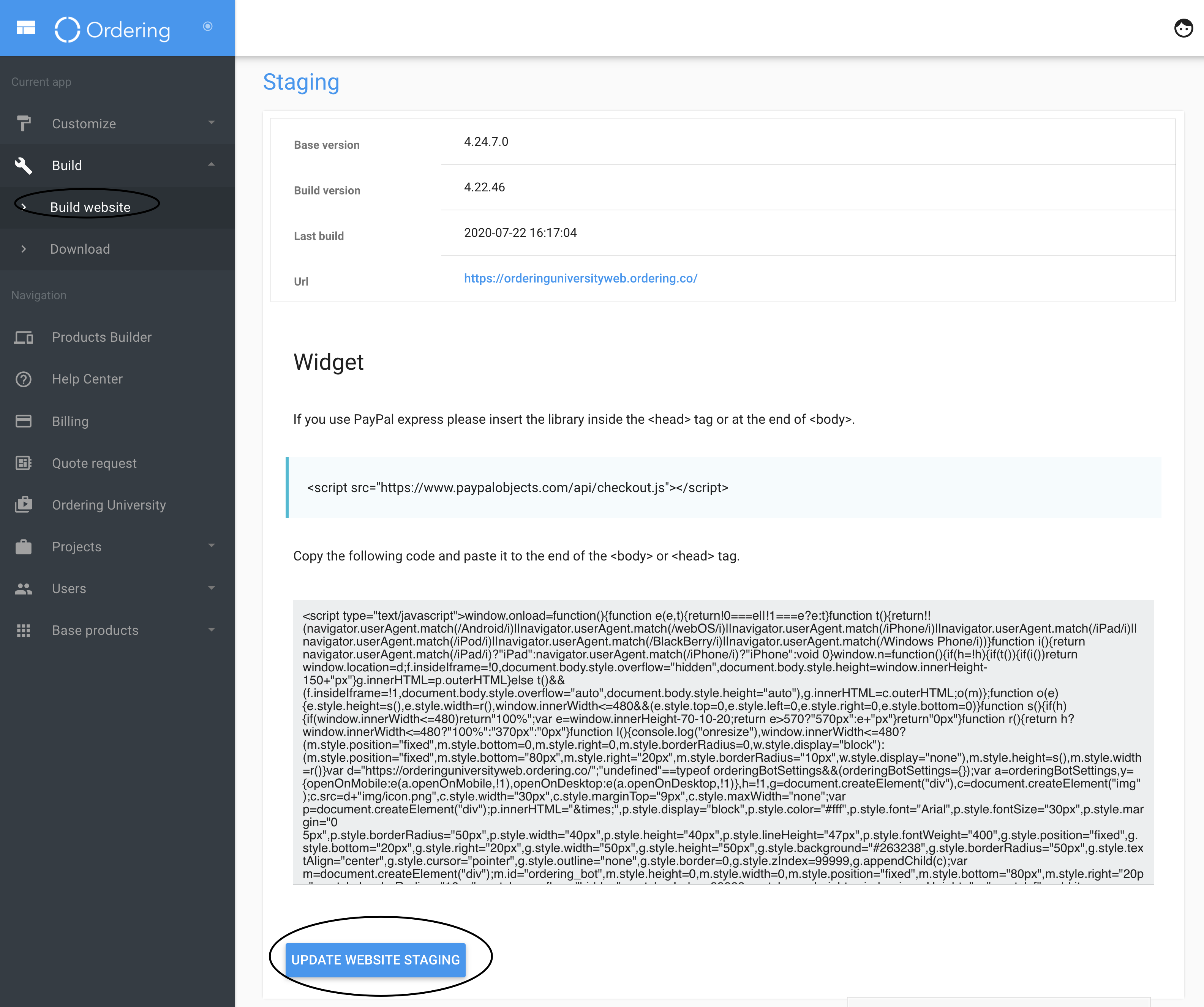 Learn More About Building Apps & how to Build a Website
¡And that's it! After you perform all these changes the images will be changed and you'll be able to see them in your apps and website.
Tip: If changes are not showing clear your cache or look on a new incognito window.
These are the different types of images that you can upload to your website & app.
Ordering Web
Homepage background: This is the principal image of your website.
Header logo: This always shows in the header, also is used as the logo for your emails.
Favicon: This logo appears in the browser when anyone visits your page.
Dummy header: From the builder, you can set a dummy image. The image will always be set at the creation of any store.
This image can be replaced at the store editor.
Dummy business logo: The Logo can also have a dummy Business logo.
Home phone image:
On your store main page, with the "Home phone image" you can let your customers know you have an app so that they can place orders. It can show what the mobile app's main home page will look like if they use it.
Confirmation page image: This image is shown once your customer has completed his order and is successfully processed, but it still has to be accepted by the restaurant. You can always upload a different custom confirmation image.
Empty cart image: When a customer is in the ordering process at your website, if the customer has not chosen an item, the empty car image will maintain on the right side of the screen until he has added an item to the order lis
t.
Widget icon: You might have an option to chat or any time of immediate contact with the store, you can apply a unique widget image to let customers know of this option.
Share image: Whenever you share the link (website address) of your store i.e. chat, txt, emails, you will see a "share image" as a preview to your website. In this case, we shared ordering.co and the image is a preview to our home page.
Car track my order: Modify the driver tracking image on google maps to something of your liking.
Ordering App
Homepage logo: This would be the logo that you would like to appear on your app for handheld devices.
Homepage background: This is the image of your main page in your app.
Try to use a color that allows your customers to read the text
Checkout enhancements image:
This is the last image to complete the ordering process your customer will see.
Alternative logo: This image will appear when your customer has lost internet connection, It can be replaced with a "lost signal" image.
Car track my order: From your app, you can track via Google Maps where your delivery driver is with your order.
Tutorial slide 1-6 (mobile and tablet)


Business App
Homepage Background: This is the image of your main managers' app.
Login Logo: This is your company logo for your app.
Pickup icon: This icon can be replaced with the image that depicts something carry-out, makes it easy to remember that the customer chose a pick-up option.
Delivery icon: Place an image of something that will always remind you that the order is sent for delivery.
Delivery App
Homepage background: For your delivery drivers, this will be the image of your main app.
Login Logo: Set your company logo here or leave blank.
Delivery icon: Your drivers will see an image depicting a delivery.
Remember to always build your project to see the changes reflected in your Ordering Web.
For the App, you need to reinstall the application from the builder.
If you need anything else from your Ordering Team, just let us know 👍
Have a Happy Ordering