Login with your admin credentials.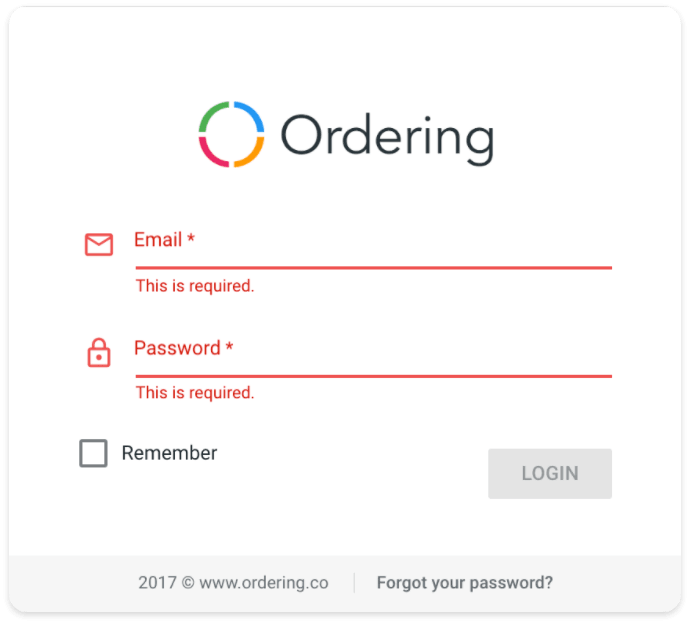 Choose the business app you would like to work on and click EDIT.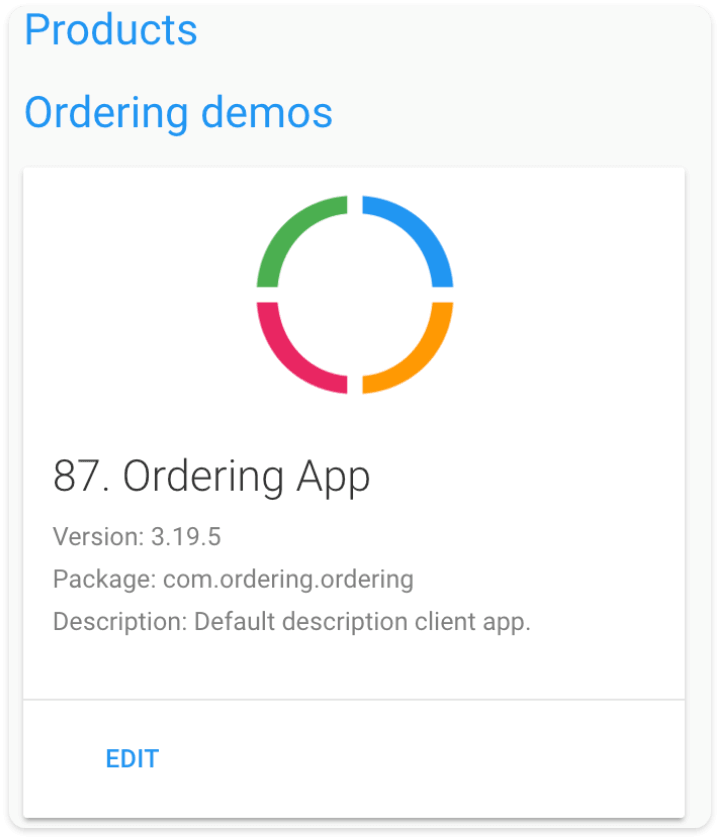 Next, we arrive at Ordering App Settings.
General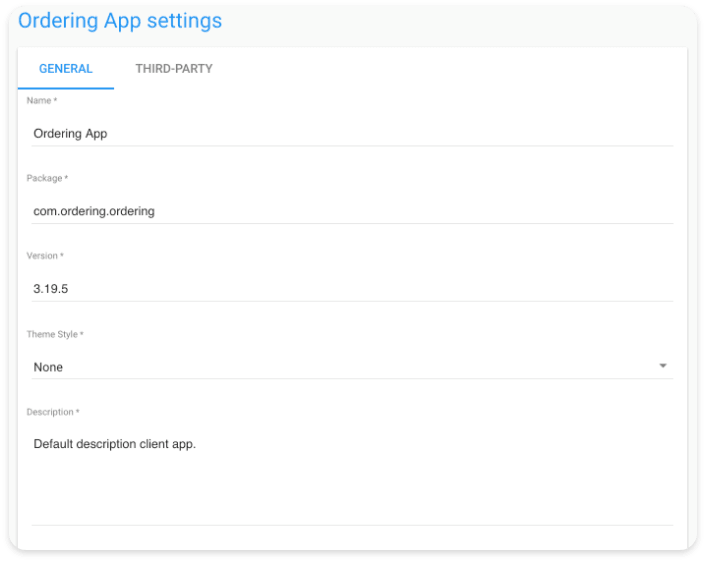 Package:
A descriptive name used for website and app stores.
Indicates what version the app is under.
Theme Style:
Scroll through different options to change the appearance.
Description:
Your customers will be able to understand what niche your store is about this Description.
Constant
Switch between searching by city and zip code or from a drop-down with a choice of cities with available service.
Time format 24hr:
Switch between am ap or 24hr.
Distance unit Km:
Switch between Miles or Kilometers.
Default Address street:
When your customer logs in, this is the address they will see on the search bar.
Default address latitude:
When the map widget is enabled, this is set to have a pin location by default.
Default address longitude:
When the map widget is enabled, this is set to have a pin location by default.
User driver tip:
Enable to show on the ordering app when a customer is completing an order. You can also predetermine the amounts as an easy option for your customers.
Show the option of categories on your app.
Depending on the country you can use decimal or comma to separate currency.
Depending on the country you can specify where the decimal separator will be.
Choose between Grid or List.
Payment gateway currency:
Specify what currency signal shows. Use 3 letter country code.
Specify the amount of days customers can postdate an order.
To facilitate the search, add the country 2 letter code i.e. US.
After the customer inputs his address, this option will show the closest business to him.
For communication with Facebook app specify the name of your app.
The Facebook ID number will go here.
ID used for websites and app stores.
ID used for communication with google.
ID to communicate with Onesignal push notifications.
Google maps key API:
API used to communicate with Google.
Extensions
Allow for products to stand out from the rest.
Featured business:
For multi-store businesses, stores can stand out from the rest.
Single business:
Allows showing to customers only one store.
Multilanguage:
Enable to allow the other languages applicable to your businesses.
Allow customers to pick at a store location.
Enable to allow the customer to post-date order.
Allow search bar for easy product find.
Allow each business to process payments with Stipe direct.
Enable to use giropay, bancontact, ideal or alipay payments.
stripedirect_payment_giropay:
A payment gateway that allows for each business to have a payment process option.
stripedirect_payment_bancontacts:
Allows saving contact information for easypay.
stripedirect_payment_ideal:
It allows for multiple stores to use the same account.
stripedirect_payment_alipay:
It allows for easy pay with Alipay.
Allow customers with Paypal to transfer payments to your account.
Allow customers to post reviews of your products.
Enable for easy login to your business with Facebook.
Payment gateway that allows splitting payments to different businesses.
Enable to allow the customer to choose the location manually on a map.
Allows customer to share orders with social networks.
Enable the use of authorized.net gateway for payments.
Enable to allow the use of discounts as pre-determined by Business owner.
Enable to allow discounts automatically to purchases.
Allow customers to make orders without having to create an account.
Track your orders being delivered via google maps.
Enable to keep track of product stock in your stores.
A stripe payment gateway that saves customer information for easy pay.
GPS assisted customer locator.
Third-Party
Depending on your niche, Keywords that describe your business will help your store to be easily found, i.e. pizza, food, delivery, etc. etc.
Code on:
Paste the code of the integration here if advised.